What Harrison Ford Thinks Of The Blade Runner 2 Script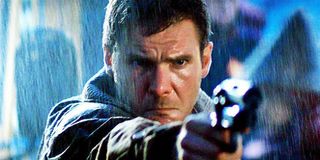 Ridley Scott has confirmed a sequel to the beloved, cult-classic Blade Runner, and Harrison Ford signed on in no time. But with a number of Ridley Scott projects taking priority over the sequel, there hasn't been a ton of momentum quite yet. But now we can rest assured, because Harrison Ford finally got his hands on the screenplay, and apparently, it's the best thing he's ever read.
In a recent press tour for Exodus: Gods and Kings, Scott chatted with MTV News about his upcoming projects including, The Martian, Prometheus 2 and Blade Runner 2. In discussing Blade Runner 2, Scott confirmed that Harrison Ford was absolutely on board and said:
Scott wouldn't discuss much further but promised that "it's written and ready to go." Apparently, Scott admitted that he still is unsure whether or not he will be directing the sequel, but seemed pretty adamant on the quality of the project. Though, the former comes as a surprise since last month Variety reported that Scott indeed was not directing, only producing—which doesn't mean it can't still be an incredible film. Scott and the original film's co-screenwriter, Hampton Fancher developed the new screenplay together creating a story that fits well with the first film. Scott talked about the process with Variety:
So if Ford's character isn't going to come in until act 3, who and what is going to be happening before then? As more details are released, we can predict there will be a powerhouse cast pairing up with Harrison Ford. Alcon Entertainment is set to start producing the film within the next year, so the details are sure to come soon, including who's directing.
It is understandable that Scott may not have the time or energy to direct this sequel. The man is now 76 years old, and knack for piling on a hefty amount projects. But, with the cult-following that is continually growing over the years for Blade Runner, it would be ideal to see him take complete control over the sequel. Without him there directing it, even with a screenplay that's the best thing Harrison ford has ever read, I'm still a bit unsure about the new film. We'll all go see it, because as fans of the original, how can you not, but it really can only go one of two ways, incredibly amazing or incredibly awful.
Your Daily Blend of Entertainment News
Your Daily Blend of Entertainment News
Thank you for signing up to CinemaBlend. You will receive a verification email shortly.
There was a problem. Please refresh the page and try again.