A Walk In The Woods Would Have Starred Paul Newman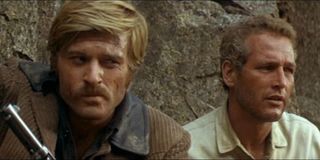 Paul Newman and Robert Redford on-screen efforts in Butch Cassidy And The Sundance Kid and The Sting are rightfully regarded as two of the best dual leading performances in the history of cinema. And it turns out that we almost got a third film with the pair of acting titans, because Robert Redford originally planned for Paul Newman to star opposite him in A Walk In The Woods.
While recently talking with director Ken Kwapis ahead of A Walk In The Woods' theatrical release this Wednesday, the filmmaker revealed that the death of Paul Newman in September 2008, at the age of 83, led Robert Redford to "shelve the project for a while." Kwapis explained,
But Redford's interest in the adaptation of A Walk In The Woods was soon rejuvenated when he worked alongside another acting behemoth with whom you'd actually assume he'd be old friends. Redford cast Nick Nolte in The Company You Keep, which he directed back in 2012, and it turns out that this was the first time the pair had ever spent a prolonged period together.
As movie fans around the world would hope, they got along famously. And soon Robert Redford started imagining him as the character of Stephen Katz to his Bill Bryson. And this urge became so overwhelming that he decided to proceed with A Walk In The Woods once again. Said Kwapis,
Robert Redford has actually been trying to bring A Walk In The Woods to the big screen since 2005. In that time, Redford found himself working on the adaptation of the heavily praised 1998 book with an array of impressive talent. While Newman's name was heavily linked to the other leading role up until his retirement in 2007, Redford also collaborated with directors Chris Columbus (Home Alone), Barry Levinson (Rain Man), Richard Linklater (Boyhood) and Larry Charles (Borat) on it, but ultimately nothing was ever ironed out.
However, after being impressed with his work on Big Miracle, Robert Redford finally found his kindred spirit for A Walk In The Woods in Ken Kwapis. After premiering at Sundance earlier this year, A Walk In The Woods will now go on a wide release from Wednesday.
Your Daily Blend of Entertainment News