Walton Goggins Will Absorb Kurt Russell's Role In Django Unchained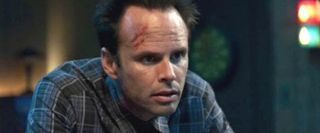 It was disheartening to hear last night that both Kurt Russell and Sacha Baron Cohen had dropped out of Quentin Tarantino's Django Unchained, each for their own, slightly unclear reasons. Baron Cohen was busy promoting his new comedy The Dictator, but Russell's departure was even more mysterious, especially since he'd been cast in the relatively large role of Ace Woody, a vicious employee of Leonardo DiCaprio's evil slaveowner character Calvin Candie.
Russell had already replaced Kevin Costner in the role, but with Django already shooting and set for December 25 release this year, it was unclear how someone could step in and replace him so quickly. But Ain't It Cool reports it's not nearly so complicated or dramatic. In true Tarantino fashion, the script is changing and evolving even as shooting happens, and Russell's role changed to the point that Walton Goggins, who plays another nasty overseer, will basically absorb the part. It seems clear that Russell did indeed quit, but their sources say he didn't storm off the set, and his departure had nothing to do with Sacha Baron Cohen leaving as well.
With so many actors in the cast, it seems clear that not everybody would have as much time to shine as they probably deserved-- and Tarantino, whose films are always long and overstuffed anyway, seemed pretty likely to have written a script that was too long and busy for so many actors. So while Russell will be missed, fans of Goggins's work on Justified will probably be thrilled to see more of him-- and given the stunning cast Tarantino still has on board, there is still plenty more for the rest of us to enjoy, with or without Snake Plissken.
Your Daily Blend of Entertainment News
Staff Writer at CinemaBlend