Wanted 2 Still Happening, Wants Angelina Jolie And James McAvoy Back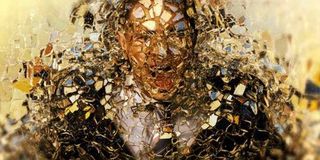 It's been close to seven years since Wanted smashed into cinemas in such gloriously over-the-top fashion that it instantly developed a fervent fan-base. Talk of a sequel has come and gone with every subsequent film that its rich ensemble and creative team have been involved in, and the subject of Wanted 2 has once again risen during a discussing with director Timur Bekmambetov - who insists that he'd love for it to happen and wants his original stars to return.
During his chat with Collider, Bekmambetov admitted that he's already been hard at work on Wanted 2. In fact, he's already outlined the story for the film, got a team on-board to bring it to fruition, and he even teased that he wants to work with all of the original cast members from the original; even the ones who died in the film. Said the director,
There's just one problem with Bekmambetov wanting to bring back Angelina Jolie's character for Wanted 2: Fox died courtesy of her own curving bullet to save the life of James McAvoy's Wesley at the end of the first Wanted.
Still, that slight hiccup can be solved with a simple explanation. The biggest problem regarding Wanted 2 is that everyone involved is waiting for Universal to figure out when the best possible start-date for it might be. Or as Bekmambetov but it,
However despite this hype and hysteria for the follow-up, Bekmambetov teased that Universal are dragging their feet as they look for the best possible date to squeeze it out. Apparently the studio is still contemplating possible pre-production start dates.
It's understandable why Universal is currently deciding when to put Wanted 2 into production. The original was a relentless rollercoaster of uniquely bombastic action that was punctuated with fine performances and stylish direction, plus it also grossed an impressive $341 million from its $75 million budget.
But the adaptation of Mark Millar and J.G. Jones' impressive comic-book series has since been joined on the big-screen by a plethora of other franchises from the medium, and now that the likes of Marvel, Warner Bros., and Fox have taken up all of the good dates for the next five years, it's hard to know when Wanted 2 can both hit multiplexes and be successful at the same time.
Fingers crossed the powers that be can figure out the answer to that conundrum soon, because another Wanted film would be the perfect anecdote to the cavalcade of superheroes that currently populate the cinematic schedules.
Your Daily Blend of Entertainment News