Wanted Screenwriters Derek Haas And Michael Brandt Hired To Pen Sequel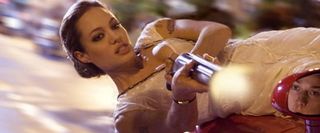 A sequel for Timur Bekmambetov's Wanted has been rumored practically since the 2008 blockbuster opened to $50.9 million and went on to gross $341.4 million worldwide. Today, the project took a massive step toward becoming a reality.
Screenwriter Derek Haas Tweeted earlier that he and Michael Brandt have been hired by Universal to write a script for Wanted 2. The two were credited screenwriters on the first film – along with Chris Morgan, who was not mentioned in the Tweet – and are excellent choices to carry the franchise's torch moving forward.
Given the fact that Twitter limits messages to 140 characters, Haas's statement lacked any real details beyond the hiring. Will Angelina Jolie's assassin, Fox, return for the sequel? She has said in the past that she did not plan to return to the character, but plans change all of the time. How about James McAvoy, whose character seemed ready to take the next big step in the final scenes of Bekmambetov's original? And will the Russian film director return to the Wanted series now that he's close to putting the finishing touches on Abraham Lincoln: Vampire Hunter?
One Tweet answers the question, "Will there be another Wanted story?," but opens the door to a handful of additional questions. Expect them to be answered in time. But don't expect to see the Wanted sequel in theaters any time soon if the script process is just beginning.
Movie junkie. Infatuated with comic-book films. ReelBlend cohost. Resident dad. Extroverted introvert. Wants to see the Snyder Cut. Managing Director at CinemaBlend.
Your Daily Blend of Entertainment News
Thank you for signing up to CinemaBlend. You will receive a verification email shortly.
There was a problem. Please refresh the page and try again.