Warner Bros. Eyes The Apocalypse, Buys Spec Script The End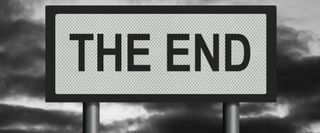 For those not in the know, a spec script is written by a screenwriter who has not been solicited to do so. In other words, they write the thing for fun and then hope beyond hope that they can get the sucker sold once it's finished. It's a risky game since you never know who may or may not be interested, but as we learned the other day with the graphic designer picked out of obscurity by Spielberg, taking that risk sometimes pays off.
Such is the case for Aron Eli Coleite. Coleite is a relative unknown whose biggest claim to fame is that he wrote ten episodes of the final season of the failing Heroes TV series. Looking to bolster his career, Coleite wrote The End on spec in hopes that someone would pick it up, and lucky for him Warner Brothers answered the call, according to Deadline.
The End follows three unrelated characters as they live out the last six hours of their lives before the world comes to an end, presumably at the hand of a massive meteor or the like. The players include a London broadcaster, a Chinese man and his family, and a 16-year-old girl and her boyfriend in Ann Arbor, Michigan. Generally, as in Crash, unrelated stories like these tend to bring themselves together at the end, but don't expect it here.
No dollar amount is mentioned for The End, but the studio paid $2 million for Arthur & Lancelot back in July so we know WB isn't afraid to spend a few bucks for a good story. Hopefully this rather interesting idea comes into its own rather than just being a clone of the Canadian drama Last Night. More on The End as rewrites begin shaping the film.
(Image via Becky Stares (opens in new tab)/Shutterstock (opens in new tab))
Your Daily Blend of Entertainment News
Thank you for signing up to CinemaBlend. You will receive a verification email shortly.
There was a problem. Please refresh the page and try again.