Warner Bros. Steals Heist Society From Disney, Paramount And Summit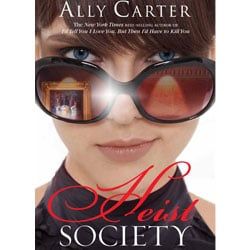 In an intense multistudio bidding war, Warner Bros. emerged victorious and now is the proud owner of Ally Carter's new book Heist Society. Disney, Paramount and Summit pounced on the opportunity to bring the young adult thriller to the big screen, but are all going home empty handed.
According to THR, Heist Society is like a teen version of The Thomas Crown Affair. It's about a young girl named Katrina Bishop who comes from a family of elite thieves. She leaves her unlawful upbringing behind, but when her father becomes suspect #1 in the case of a mobster's missing art collection, it's up to Katrina to steal the art back and clear his name.
The book portrays Katrina as a teenager in boarding school, but the movie will tack on a few years to give us a heroine in her early 20s. The woman in charge of making that new development? Shauna Cross, the author of Derby Girl and the screenwriter of Whip It. Cross's adaption of her own book was excellent, but will she find success working with another author's story? I'd like to think so, but it also depends on the quality of the source material.
If so many top studios were vying for the rights, there must be something special about Heist Society. The book doesn't hit stores for another week, but I've just pre-ordered it. When I find out what's so great about it, I'll let you know.
Your Daily Blend of Entertainment News
Staff Writer for CinemaBlend.