Watch This Adorable Little Kid Bust Out Patrick Swayze Dirty Dancing Moves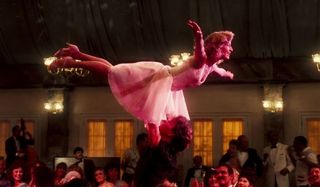 Dirty Dancing was an iconic '80s movie set in the sizzling '60s, and yet it is a timeless romance. For proof, check out this incredible vid of a baby Swayze following the star's Johnny Castle moves with a sharp eye and fast foot! And as you well know: Nobody puts Baby in the corner!
This little dancing dynamo's name is Charlie, and clearly he has a deep appreciation for the power of Patrick Swayze. Who could blame him? Those hip wiggles and bad boy bravado provided a groundbreaking moment in the lives of countless teen girls. But for this little boy, it's been an inspiration to dance!
This kid kills me. First off, observe the way he struts across his living room's carpet, attempting to mimic the confidence of Johnny Castle as he struts on the stage toward his lady. Charlie goes still during close-ups or flirtations with Frances "Baby" Houseman (Jennifer Grey in her most iconic turn). He may still be at that age where girls hold no allure... or, worse yet, cooties! But when director Emile Ardolino cuts to a wide that shows Swayze's feet in action, just watch Charlie spring to life!
This kid's got rhythm! This kid's got moves! We'll be counting the days until he ends up on Ellen. But things get next level when Johnny Castle springs from the stage. Charlie doesn't even need to look at the television anymore. He knows this part by heart the way most kids today know all the words to Frozen.
Dear Charlie's parents: You're doing everything right.
Buzzfeed contacted Charlie's mom, Laine Kristina, who first Tweeted this vid. She was kind enough to give a little bit of background on how her little boy became a Dirty Dancing die hard. As one might predict, Dirty Dancing is one of her favorite movies. So when it was being shown at a Knoxville revival screening, she and her husband were quick to attend. Loving all things dance, Charlie insisted to see it for himself the following day. It would be the first of many watchings.
Kristina said of the precursor to this vid, "He has probably watched it only 10-12 times. He loves to dance and cannot sit when he is watching a music video or anything with dancing in it. He immediately gets up and starts copying all of the moves. It started when he was three and Michael Jackson died and he started watching his videos."
What do you do when your three-year-old is obsessed with doing the dance from "Thriller?" You make him Michael Jackson for Halloween and share his routine of course! Check out Charlie's first dance vid below:
Other movies we'd suggest for Charlie's continued dance education include: Singin' In The Rain, Footloose, Billy Elliot and Step Up. Have any others that are musts for this budding dance master? Share them in comments!
Your Daily Blend of Entertainment News
Staff writer at CinemaBlend.