Watch: Animation Tests From The Kavalier And Clay Movie That Never Happened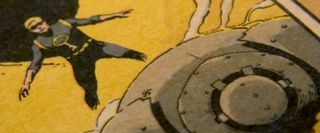 The Amazing Adventures of Kavalier and Clay is one of those mythical dream projects that got started at some point with some promising talent attached, then languished in development hell for reasons nobody seems all that clear on. At one point set to star Tobey Maguire and Natalie Portman, with author Michael Chabon on board to adapt his own Pulitzer Prize-winning novel for the screen, the project had potential, but also enormous challenges in adapting a sprawling, beloved novel that starts with a kind of fairy tale in Prague, captures the Golden Age of comics in New York City and the dawn of World War II, veers off into Antarctica for a prolonged period, and ends…. well, if you haven't read it, I wouldn't dare spoil my all-time favorite book for you.
It's still possible the Kavalier and Clay movie could happen, but not any time soon and probably not with any of the original talent attached. From the ruins of that first attempt, though, we're now getting a glimpse at what might have been. Over at Blastr they've posted animation tests drawn up by Jamie Calliri and commissioned by Scott Rudin, the producer on the original project. The idea was to see in action The Escapist, the comic book hero cooked up by main characters Sammy and Joe, a blond-haired Aryan who was also a fierce opponent of the Nazis. Calliri took it a step further, shooting some live-action footage of Joe-- a Jewish immigrant from Prague-- both drawing the comics and visiting the docks where other immigrant ships arrived, futilely searching for his parents.
The segment captures a lot of complicated things about the book-- the fears of Jewish immigrants during World War II, the way both Joe and Sammy put their greatest hopes into The Escapist, Joe's specific homesickness for the world he's left behind-- and also portrays The Escapist pretty much exactly as I imagined him. It's really promising stuff, and gives me a much better sense of how the novel could have been condensed into a film after all. Until today I never actually wanted the Kavalier & Clay movie to exist, worrying they could never do it right, but this animation makes it look a lot more possible-- even though the project is no closer to ever existing.
Check out the video below and let me know if this changes your mind as much as it did mine. And if you haven't read The Amazing Adventures of Kavalier & Clay, for God's sake, do. It's tremendous.
The Escapist v.s. The Iron Gauntlet (opens in new tab) from Jamie Caliri (opens in new tab) on Vimeo (opens in new tab).
Staff Writer at CinemaBlend
Your Daily Blend of Entertainment News
Thank you for signing up to CinemaBlend. You will receive a verification email shortly.
There was a problem. Please refresh the page and try again.