Watch Anne Hathaway and Seth Meyers Perfectly Spoof The End Of Every Romantic Comedy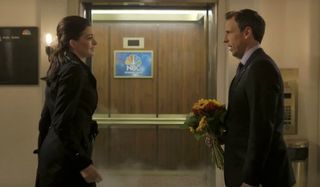 All movie genres have certain specific tropes and scenes that pop up regularly. The romantic comedy in particular seems to have one scene that appears without fail: the climactic race for love. Seth Meyers and Anne Hathaway have most certainly picked up on this trend, and decided to poke some fun at it. Check out the video below.
Starting like a normal segment from Late Night with Seth Meyers, the sketch begins with the host welcoming the audience back from a commercial break. Actress Anne Hathaway had appeared on the show to promote The Intern, and left for the evening. Meyers reflects back on the interview, and the "one question" he never asked her. Obviously overcome with regret, his crew of New Yorkers begins to chime in and offer support – what other people would call abuse – convincing Meyers to go after her. Meyer decides to get up from his desk and runs through the halls of 30 Rock in an attempt to find her.
Along the way, he mistakes a wig-adorned John Lutz for Hathaway, encounters a creepy janitor who may not actually be a janitor, and cold cocks a page for some flowers. He finally finds Hathaway waiting for him, and after an immensely emotional buildup, he finally asks the questions: would she ever like to return to working in live theater? And is Robert de Niro a prankster? She then walks off to the elevator, with Meyers seemingly contented by the experience of having caught her before she left... along with one final punch to the unfortunate page.
While no doubt goofy, the sketch perfectly lampoons a style of scene that has become a constant sight in modern romantic comedies. From When Harry Met Sally… to Friends With Benefits, they almost always involve the two would-be lovers having a falling out, only for them to realize how much they care for one another and chase each other down – typically somewhere public -- and deliver a speech that professes their feelings for one another. They also skewer the way in which the weather and environment can somehow unnaturally change to fit the mood of the film or impede the protagonists progress. Even indoors it manages to start raining, conveying a sense of despair that Meyers may not find Hathaway. This type of scene appears in numerous other genres -- and has generally become a common storytelling device -- but has a special place as part of the romantic comedy genre.
This shouldn't surprise us, as Late Night with Seth Meyers – as well as its host – has become increasingly adept at providing parodies of the modern cultural zeitgeist. Now all that's left to do is wonder what the comedian will spoof next. As for Anne Hathaway, her movie The Intern is in theaters as we speak. Go see it!
Originally from Connecticut, Conner grew up in San Diego and graduated from Chapman University in 2014. He now lives in Los Angeles working in and around the entertainment industry and can mostly be found binging horror movies and chugging coffee.
Your Daily Blend of Entertainment News
Thank you for signing up to CinemaBlend. You will receive a verification email shortly.
There was a problem. Please refresh the page and try again.