Watch Bill Murray Make Up A Perfect Theme Song To Jaws During SNL 40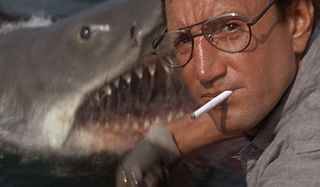 Last night's avalanche of Saturday Night Live nostalgia with its 40th Anniversary Special was an insane trip down memory lane. However, wrapping up a live medley of past SNL musical characters, it would also see the return of Bill Murray as over-the-top lounge singer, Nick Ocean. While the bell-bottomed blue leisure suits are gone, the character, who should be credited with inventing the YouTube meme of adding lyrics to famous orchestral themes, is still at his repertory best with lyrics for the Love Theme from Jaws. –And yes, it's sidesplitting.
Why Steven Spielberg never decided to go with "Jaws Get Away From Me" for the soundtrack to his groundbreaking 1975 piscine horror pic is something we may be left wondering for ages. However, it seems that history would not be denied exposure to what would have been a sure-fire chartbuster during the days of disco and Pet Rocks. A game Murray almost makes us think it's Groundhog Day again as he brings it all back just as if it was 1977, the writer's room was veritable pharmacy of illegal narcotics and he was still living under the then-sublime shadow of the then-recently departed Chevy Chase.
Interestingly enough, the choice to lyricize Jaws was likely no accident. When SNL debuted on October 11, 1975, it was merely a variety show containing a hint of a subversive edge featuring a cast of self-acknowledged "not ready for primetime players." However, the release of Jaws just that previous summer on June 20, was a (no pun intended,) watershed moment for not just the film industry, but popular culture in general and it was a tremendous source of satire for the nascent days of the sketch show; specifically with Chevy Chase's "Land Shark" character. (Candygram, anyone?) In a sense, it was the wide-reaching topic on which SNL first cut its satirical (non-shark) teeth.
By this time, popular culture had reached the midpoint of a decade in which the Vietnam War was still raging to an unfortunately anti-climactic denouement, which seemed to turn audience tastes towards the gritty, bleak, realistic crime dramas that were dominating the box-office. Jaws, despite its technical status as a horror film, was actually a breath of fresh air and a much-needed step towards the fantastical. Ironically enough, the premise of a giant man-eating shark mutilating and consuming beachgoers was a livelier alternative than most of the other choices; especially to a generation who grew up with saccharine teen beach romps like Beach Blanket Bingo and Gidget.
In a sense, Jaws was the first real crowd-pleasing big-budget box-office phenomenon and created a movie-going paradigm that would lead the way for Star Wars (one of Nick Ocean's greatest hits) just a few years later and just about every other blockbuster since. It was certainly apropos that it got mentioned in some capacity in this anniversary special. Thankfully, that capacity was hilarious.
Your Daily Blend of Entertainment News
Thank you for signing up to CinemaBlend. You will receive a verification email shortly.
There was a problem. Please refresh the page and try again.