Watch Brad Pitt Go To War With Furbies In This Jimmy Kimmel Spoof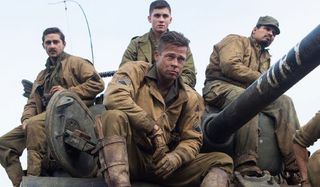 This past weekend the new World War II movie Fury was at the top of the box office with $26 million. This got the folks over at Jimmy Kimmel Live wondering what a sequel to this Brad Pitt vehicle would look like. Turns out, you throw in some Furbies and even a movie as hard-R and graphically violent as Fury can be family friendly!
Named for the tank that serves as the shelter/savior of a weathered troop of American soldiers, David Ayer's Fury stars Brad Pitt as sergeant Don "Wardaddy" Collier. Playing his bible-thumping best friend (and possibly lover?) is Shia LaBeouf, while Jon Bernthal portrays the group's loose cannon. Michael Pena, who starred in writer-director Ayer's critically heralded cop drama End of Watch, plays one of the group's gunners, while ingendude Logan Lerman takes the role of a naive newbie to the front lines. Trapped in the claustrophobic tank, this team must pull together to fight Nazis deep in the heart of Germany as WWII draws to a close.
Essentially, Fury is a hard to watch movie that--while doing well--is not totally paying off on its early buzz. But how do you fix a problem like Fury? With Furbies. It's not too crazy, considering the recent successes of Hasbro's movie adaptations. The toymaker-turned-movie-mogul's got two live-action franchises, Transformers and G.I. Joe. The horror movie Ouija is hitting this week, and both Monopoly and Candyland movies are in the works, as is a live-action adaptation of Jem and the Holograms. And just the other day, Hasbro announced plans to move the magic of My Little Pony to the big screen with a feature film.
Back to Fury. Though reviews for the film have earned it a solidly fresh rating on Rotten Tomatoes, Fury got a cooler reception from critics than was anticipated. With End of Watch, Ayer created an electrifying narrative within the cop drama that was frightening in its violence and profound in its emotional arcs. The same was hope for with Fury. However, most of the praise for the film has focused on its dedicated depictions to World War II's mind-snapping violence, not the performances of its ensemble.
Performances are described as "believable," "very strong," and "solid." Yet its violence and action sequences earned much flashier descriptions, ranging from "expertly depicted tank battles," to "persuasive, warts-and-bolts depiction of warfare from the guts of a tank," and "a kind of war horror film." Our own Sean O'Connell offers, "War is hell. Fury might be worse."
So let's say Furbies were looking to break into movies. What might be next? Based on the video below, might I suggest a sequel to Her where a sentient computer finds unexpected love with a furby nonsense bot?
Your Daily Blend of Entertainment News
Staff writer at CinemaBlend.