Watch Eddie Redmayne Demonstrate His Terribly Awkward Hobbit Audition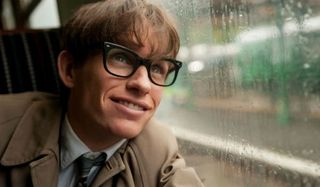 Eddie Redmayne has been gaining serious traction lately with his incredible performances in films such as Les Miserables and most recently The Theory of Everything. So it's no surprise that the young British actor has been considered for other big time roles. While on The Graham Norton Show Redmayne revealed his interest in a few hit films including The Hobbit, which he actually auditioned for. Watch him describe his terribly awkward audition for the role of Bilbo Baggins below.
Redmayne. You do so many things right. But apparently playing a hobbit just isn't one of them. At least he looks adorable doing so. And even as he clenches up and creepily says the line, "my name is Bilbo Baggins", it's still so endearing. It's terrible, but endearing nonetheless.
Fantasy acting is just not for him. Though, he would have played a great Weasley in the Harry Potter which he also mentions in the interview, if only for his red-headedness. But, we'll stick to the powerful acting we've seen from him in the past few years.
Most recently, Redmayne portrayed Stephen Hawking in the film, The Theory of Everything which is currently still in theaters. Despite the inability to move or speak during much of the film, Eddie Redmayne's portrayal of the genius turns out to be one of the best performances of the year. The romantic drama tells the story of physicist Stephen Hawking and the literature student he fell madly in love with, Jane Wilde, in the 1960s at Cambridge University. Redmayne's performance is truly moving and has scored him a Golden Globes nomination for Best Actor in a Motion Picture Drama.
And as Redmayne notes for his Hobbit audition, he did his research. As he does extensively for many of his roles. He didn't take his character in The Theory of Everything lightly. The actor spent time with Stephen Hawking's family, he visited patients who suffered from amyotrophic lateral sclerosis, watched footage of Hawking, read Hawking's book, A Brief History of Time, and finally went on to meet the physicist right before he started shooting. Redmayne was nervous about his encounter with the physicist though. He told The Independent that he was worried all of his preparation for his character wasn't going to match up with the man he was meeting. But overall, his interaction with Mr. Hawking was very useful for his research, and helped him in portraying the man so well on screen.
And whether or not Redmayne wins the Oscar for his performance, he has shown his talent off once again, and it will gain him recognition for bigger and better roles in the future. We can look forward to seeing Redmayne next on February 6, 2015 in the space opera film Jupiter Ascending.
Your Daily Blend of Entertainment News
Thank you for signing up to CinemaBlend. You will receive a verification email shortly.
There was a problem. Please refresh the page and try again.