Watch Eddie Redmayne's Quirky And Loveable Oscar Speech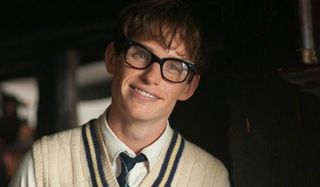 Eddie Redmayne picked up the Best Actor gong at the Academy Awards on Sunday, and then delivered a preposterously adorable speech filled with warmth, emotion and joy that made the world fall even more in love with him. Yeah, I know, I didn't think it was possible too. Seriously, the guy is just an absolute dreamboat. You can watch it and fawn below.
Redmayne is simply a bubbling ball of energy that you just want to bottle up. And, I'm going to put it out there; his screech upon locking eyes with his statuette is already destined to become one of the all-time great Oscar moments.
It really has been a rather sensational few months for Eddie Redmayne. Not only did he get married to his long-term girlfriend, Hannah Bagshawe, towards the end of 2014, but he has steadily watched himself be recognized more and more for his work in The Theory Of Everything. After hearing his name read out by Cate Blanchett, he planted an almighty smooch on Hannah Bagshawe. Then he grasped hold of the Oscar that will now accompany every article that's ever written about him and delightfully bellowed:
So cute.
He also took the occasion to once again pay tribute to every ALS sufferer in the world, as well as giving a special shout-out to Dr Stephen Hawking, his ex-wife, Jane, and all of their children. And he did all of that while obviously jittering with nerves and shock as he still tried to comprehend how he has turned into a member of the Hollywood elite.
But what really makes his success so enchanting is just how shocking it is. Don't get me wrong, Eddie Redmayne's journey to Oscar glory has been fully deserved, but it is still rather unexpected. Before the turn of the year it was roundly acknowledged that Michael Keaton's turn in Birdman would end up taking the Best Actor gong at the Oscars. However, Redmayne steadily built up momentum, taking home awards at the Golden Globes and BAFTAs and this has now ended with him taking home the most coveted one of the lot, the Best Acting Oscar.
Eddie Redmayne's turn as Dr. Stephen Hawking in The Theory Of Everything was truly remarkable. Not only did he need to portray the scientist at several different stages of his life, but he also needed to bring the character to life in a noticeable but nuanced fashion while also being restricted by the disease that Hawking had. And it's quite clear by the awards that he now possesses that he did so with aplomb. But, I'm sure that this is only the beginning. Redmayne has a quirky everyman quality, and understated beauty which means he will be in demand for the foreseeable future. And I can't wait to see the actor that he grows into, even if he was shit in Jupiter Ascending.
Your Daily Blend of Entertainment News
Thank you for signing up to CinemaBlend. You will receive a verification email shortly.
There was a problem. Please refresh the page and try again.