Watch Everything Wrong With Big Hero 6 In This Brutal Video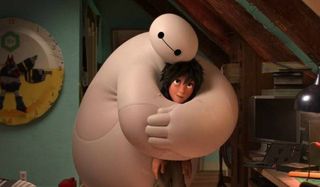 Plenty of you were probably incensed when Big Hero 6 trumped The LEGO Movie to not only get a Best Animated Film Oscar nomination, but to the award itself. If you fit into that category, then your chance for retribution has come in the shape of Cinema Sins' brutal video chastising of every single mistake that the Disney flick made. So don't delay, you can watch below.
I know what you're thinking; how could Cinema Sins so callously rip into Big Hero 6 like this? Well, even emotional, funny and enthralling animated films have their problems too, and there's no better time to point them out than straight after they've been given an Academy Award.
But what were Big Hero 6's biggest flaws? Well, basically that it's an amalgamation of a number of other superhero films. Not only does 14-year-old Hiro Hamada (Ryan Potter) have Tony Stark technology in his bedroom, but there's iconography from Tron and Stargate in two of Big Hero 6's most integral scenes.
But while they may be forgivable, what isn't is that Big Hero 6 stole the joke about Baymax (Scott Adsit) not being able to squeeze into his superhero outfit straight from The Incredibles. It should be noted that the Pixar scene in question was only used in the spellbinding teaser trailer for The Incredibles, but it was most certainly memorable:
Moving on, Big Hero 6 also steals elements of its comedy and conclusion from another of Brad Bird's esteemed efforts, as most of Baymax's interactions are similar to the titular fifty-foot, metal eating robot in The Iron Giant, as are his self-less antics that save the lives of Hiro and Abigail as they rush back to the portal. Normally I just well up thinking about one of these ending's so to have them both in my head at the same time has reduced me to a wallowing mess.
Meanwhile Big Hero 6 also walks through a cavalcade of clichés that includes the villain assuming that the heroes are dead without checking only for them to survive on two separate occasions, and there only being black umbrellas as it rains at a funeral.
But despite these "issues," there's no denying the fact that Big Hero 6 was a resolute success both financially and critically when it was released last November. So much so that a sequel has already been teased. I still don't' think that it was better than The LEGO Movie, though.
Your Daily Blend of Entertainment News
Your Daily Blend of Entertainment News
Thank you for signing up to CinemaBlend. You will receive a verification email shortly.
There was a problem. Please refresh the page and try again.