Big Hero 6 Creator Opens Up About A Possible Sequel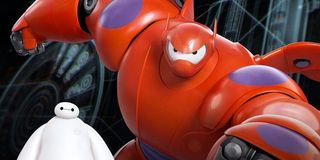 Disney's animated action adventure, Big Hero 6 appears to be cooking up a sequel. Of course, such news would come to the surprise of no one, seeing as it was a tremendous hit last year that made $520 million worldwide and has been nominated for several awards, including an Oscar. However, according to the film's co-director, the creative forces behind the inflatable animated extravaganza are not just approaching the project with dollar signs in their eyes. Apparently, the story to the potential sequel is being approached meticulously.
In an interview with Variety, Chris Williams, who co-directed Big Hero 6 with Don Hall, reveals that the creative process for generating the story was more of an egalitarian experience than a typical project of similar ilk. Before all the aesthetics and merchandising possibilities for this veritable "Frozen for Boys" have been brought up, the story seems to be the key focus at this stage. According to Williams:
Just catching a glimpse of footage from Big Hero 6 immediately reveals that this film is nothing less than a labor of love, put together by people who grew up having their imaginations stimulated by the world of comic books, video games and groundbreaking animated epics from the Pixar brand. The relatively tight-kept team of 10-20 writers, artists and animation directors have established a smooth-running creative flow that pulls together an eclectic array of ideas towards the framework of the central themes. For Big Hero 6 that theme centered on the concept of coping with loss, as main character Hiro did when his brother passed away. The tear-inducing inciting incident was the end result of several real-life experiences of the creative team.
Yet, from loss bloomed an absurd, heartwarming creation left by Hiro's brother in the form of the robotic balloon nurse, Baymax. Carrying himself through life with a child-like innocence, it promotes the often bittersweet idea that sometimes from death, springs new life. From that conceptual nucleus, you can begin to deduce how all of the concepts in Big Hero 6 took shape, even in regards to the villain's stunningly relatable revelation.
Thus, while all the stylistic choices and designs for marketable knick-knacks are mostly already established with the first film, the prospective sequel will need to find that same profound nucleus around which to build the emotional, sometimes absurd concepts that makes up the air-bloated body of the film. From the way the collaborative process sounds, that should prove to be no issue, at all.
No date has been set for its sequel, but Big Hero 6 will be hitting store shelves on Blu-ray/DVD on February 24.
Your Daily Blend of Entertainment News