Big Hero 6 Just Crossed This Massive Milestone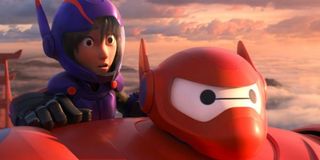 A huge announcement rolled in yesterday for Walt Disney Animation Studios when its latest family-fun film, Big Hero 6 broke an incredible record. The lovable robot and his human friend brought in more than $621 million worldwide, making it the number one animated movie of 2014.
Fresh off of its win at the Academy Awards for Best Animated Film, Big Hero 6 had a huge weekend surpassing $400 million at the international box office. Along with its $221 million earned domestically, the film has surpassed other global box office hits this year including How To Train Your Dragon 2 and The Lego Movie. According to Deadline, the runners up brought in $618.9 million and $468.8 million respectively. And as Big Hero 6 continues to bring in big numbers in China after its February 28th release, that number is sure to rise. Since its release in China, it has surpassed even Frozen, making it the highest grossing animated release ever from Disney or Pixar in the country. And in Japan, the quirky film is the second-highest grossing Disney animated film ever.
On an encompassing global scale though, Big Hero 6 sits as the third biggest Walt Disney Animation Studios release behind Frozen and The Lion King, and it sits at that same third place position domestically as well.
The heartfelt story follows a boy named Baymax (voiced by Scott Adsit) and his plus-sized inflatable robot. The film, inspired by the Marvel comic books of the same name is the first Disney animated film to feature Marvel Comics characters. Its not only been met with incredible box office success, but also critical acclaim praising its animation, action and touching story-telling.
The film first debuted in the U.S. on November 7, 2014 and within 5 months time has topped the charts. What it does so well outside of its terrific animation is that the story centers on a special bond between Baymax, his robot, prodigy Hiro Harnada, and a group of friends as they use technology to become a band of heroes. Check out the adorable trailer, if you haven't already seen the film:
Big Hero 6 is still playing in select theaters nationwide, and is also now available on DVD. And just earlier this week an actress from the film, Genesis Rodriguez teased rumblings of a sequel in the works, so even more to look forward to on the huggable robot front.
Your Daily Blend of Entertainment News