Watch How Deadpool Brought Colossus To Life Through VFX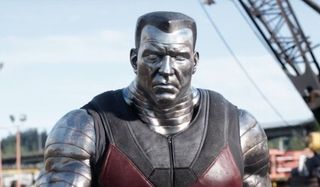 Although Deadpool wasn't Piotr Rasputin's, a.k.a. Colossus, first movie appearance, it was unquestionably his most important. Not only did the steel-skinned mutant get to have meaningful dialogue (and with a Russian accent, finally), but he looked the closest he's ever been to his comic book counterpart. Although Deadpool had a smaller budget compared to most superhero movies, they were able to create a great-looking Colossus, and now there's a video showing how that was accomplished.
In this VFX breakdown from Wired, they go over the steps taken by effects studio Digital Domain to bring Deadpool 's Colossus to life, and it was quite complicated. While X2: X-Men United, X-Men: The Last Stand, and X-Men: Days of Future Past had Daniel Cudmore playing Colossus, Deadpool's version of the character took five actors to create. That's right, five.
Starting off, there was a "motion-capture in-studio session done," but following that, there was a separate, 6-foot-9-inch actor on set wearing a gray "tracking" suit during the scenes. That was Andre Tricoteux, who was announced as playing Colossus back in May. However, Tricoteux still wasn't tall enough for Colossus, and he was required to wear platform shoes or a head piece to achieve the required height.
Following that, Colossus' face was modeled on a third actor, who had the more "chiseled jaw line" they were going for. Then a fourth actor, Stefan Kapicic, was called in to rerecord Colossus' dialogue, so that's who you hear in the movie. Finally, actor #5, who was actually Digital Domain employee Greg LaSalle, was used for the facial animation. Since LaSalle ddidn't look anything like Colossus, the animators had to "re-target" his performance so it matched the metallic Colossus model. This way LaSalle's face could drive the CG face while still maintaining subtle movement.
With the facial work completed, the animators then turned to the rest of Colossus' body for tweaking so they could achieve the necessary "solid performance." Because it was impossible to maintain the straight edges and lines across Colossus' metal body while he was in action, they developed a new technique called "live texturing" that let them subtly adjust the metal no matter how he moved in a particular scene or fight. It sounds like Colossus was a time-consuming creation, but all that hard work definitely paid off giving fans the most faithful-looking, live action version of him yet.
If you want a quicker look at the work that went into Colossus and the movie's other big VFX, you can also watch this video from CGMeetup. Jump to about the 1:05 mark.
Deadpool is currently playing in theaters, and Deadpool 2 has already been green-lit by Fox, with Ryan Reynolds and writers Rhett Reese and Paul Wernick returning, as well as Tim Miller being eyed for the director's chair again. There's no word yet on if Colossus will return for the sequel, but if he does, I'm sure he'll still be trying to convince the Merc with a Mouth to be a full-time hero.
Connoisseur of Marvel, DC, Star Wars, John Wick, MonsterVerse and Doctor Who lore. He's aware he looks like Harry Potter and Clark Kent.
Your Daily Blend of Entertainment News
Thank you for signing up to CinemaBlend. You will receive a verification email shortly.
There was a problem. Please refresh the page and try again.