New Deadpool Video Shows The Colossus Vs Angel Dust Fight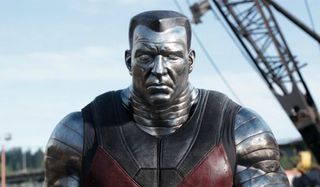 This year will be the year of the superhero movie; between Batman V Superman: Dawn of Justice, X-Men: Apocalypse, and Captain America: Civil War, we will finally get to see some of the most iconic storylines, characters, and showdowns from the comic book world come to the silver screen. However, one superhero adventure that arguably has fans of the genre the most excited is Deadpool. A new TV spot for the Merc with the Mouth's solo outing has just been released, and showcases some of the film's action and battle sequences – particularly the showdown between Colossus and Angeldust.
We've known since the last trailer hit the web that the Colossus and Angeldust would square off at some point during the movie. However, the first glimpse we got made it seem as though Gina Carano's villainous Angeldust would make quick work of Stefan Kapicic's Russian X-Man. Now it seems that the two will land more than a few shots on one another before Colossus gets his ass royally handed to him. The TV promo also makes it clear that Deadpool really enjoys Negasonic Teenage Warhead's finishing blow against Angeldust, referring to the attack as a "moneyshot."
Aside from the smack down between Colossus and Angeldust, the video also gives us a much better look at some of the film's other action sequences. Across the board it's easy to see that the film is going to play up just how indestructible Wade Wilson becomes after the procedure turns him into Deadpool. He falls great distance, gets slashed and shot, and even appears to ride a piece of debris as he is thrown from a massive explosion – this is the nearly invulnerable Deadpool we have all come to know and love over the years.
Deadpool has us excited because it represents something decidedly different from what have seen over the years. Wade Wilson is not only an anti-hero, but also he has a great sense of humor and the movie looks frankly funny as hell. This isn't the brooding of Batman and Wolverine, nor is it the lighthearted, whimsical fun of The CW's The Flash either. Deadpool will exist in its own category, and that makes perfect sense when we consider the fact that Deadpool's comic source material had always marked one of the most unique reading experiences in the world of graphic novels. Early reviews following some early screenings have been nothing if not positive, so our appetites have officially been whetted for Ryan Reynolds to finally get his due as a superhero on screen.
Mark your calendars, ladies and gentlemen. We only have a few more weeks to go until we finally get a first hand look at Deadpool's vulgar and violent solo adventure. Deadpool will blast its way into theaters on February 12, just in time for Valentine's Day.
Your Daily Blend of Entertainment News
Originally from Connecticut, Conner grew up in San Diego and graduated from Chapman University in 2014. He now lives in Los Angeles working in and around the entertainment industry and can mostly be found binging horror movies and chugging coffee.