Watch Simon Pegg Rank All Six Star Wars Movies In Less Than A Minute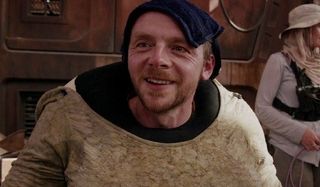 Amongst fans, there is a great amount of debate about the various merits of the six movies that currently make up the bulk of the Star Wars universe. We all have our favorites, sometimes they overlap, sometimes they don't, and we could probably argue about how they rank in an endless loop. Simon Pegg was recently asked to rank all six Star Wars movies, from lowest to highest, and you can check out his answers below.
While stumping for his latest film, Mission: Impossible—Rogue Nation, which just so happens to be one of the best action movies of the year so far (for my money it's second only to Mad Max: Fury Road), MTV asked Pegg to list his choices - ranking The Phantom Menace, Attack of the Clones, Revenge of the Sith, A New Hope, The Empire Strikes Back, and Return of the Jedi from worst to first - and explain why, all in about a minute.
Pegg is well known for being a nerd, especially when it comes to Star Wars, and as we had confirmed for us in that reel that was unveiled at San Diego Comic-Con last month, he does have what appears to be a small cameo in J.J. Abrams' upcoming Star Wars: The Force Awakens. You can rest assured that he has a lot to say on the matter, and though it must have been difficult for him to cram all of his thoughts on six different movies into a minute or less, he does an admirable job arguing his points. There's even some time leftover for a little banter with the interviewer.
As far as Pegg is concerned, the worst of the worst is Attack of the Clones, the second of George Lucas' prequels. He says it's because at the time we all thought it was better than The Phantom Menace, but it wasn't. Next on his list is Episode I: The Phantom Menace, which was incredibly disappointing, we all cried, and it destroyed all of our lives. Revenge of the Sith rounds out his bottom three, the "best of a bad bunch," in his words, but at least it does have some connections to the original trilogy, which saved it compared to the other two.
Return of the Jedi is, as Pegg says, "the lesser of the three" original films, which is a fairly common assessment among Star Wars fans, though he does say he loves it dearly. In what some may consider a controversial move, the 1977 original lands in second place, while The Empire Strikes Back takes the number one slot for, "artistry and sheer balls."
It's probably not a surprise to anyone that Pegg's bottom three are the prequels (sorry, I know there are fans and supporters out there). All in all, this is pretty close to how I would rank them, and though I might do some flip flopping with the prequels, his top three are my top three.
Simon Pegg can be seen right now, right this very moment, in theaters everywhere in Mission: Impossible—Rogue Nation, which, if you haven't seen yet, you should check out. Star Wars: The Force Awakens, with Pegg in some as yet undisclosed role, opens everywhere on December 18.
Your Daily Blend of Entertainment News