Watch The Simpsons' Funniest Movie References In A NSFW Video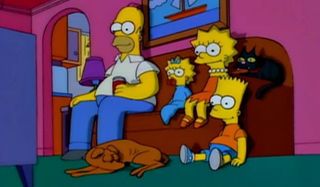 Over the better part of the last three decades The Simpsons have become a cultural institution in their own right, and we have loved every minute of it. The show's iconography seriously cannot be understated, but that doesn't mean they haven't poked their fair share of fun at numerous silver screen icons during their time on the air. A brand new supercut has just hit the web showcasing a ton of The Simpsons' amazing homages to legendary movies over the years, check it out below.
As you can see from the video above (opens in new tab), The Simpsons have long maintained a firm finger on the pulse of modern pop culture. Throughout their run they have referenced just about every iconic movie from just about every genre imaginable. From small moments in Charlie Chaplin silent films, to major ones like Indiana Jones stealing the idol from Raiders of the Lost Ark. At certain points they even found ways to make risqué on-screen moments into comedic, more or less family friendly references – such as taking Alex DeLarge groping a pair of breasts in A Clockwork Orange and turning it into Bart Simpson reaching for a set of cupcakes, or the death of Sonny Corleone from The Godfather. It may be a cartoon, but The Simpsons is a show that appeals to all ages and as such can adapt pretty much any film while still remaining suitable to the audience. That's just one of the reasons the show has lasted as long as it has.
Upon watching the video it's difficult not to think of the absolutely South Park assertion that The Simpsons has pretty much done every storyline one could possibly imagine. Not only has the show managed to tell a ton of wholly original storylines over the course of the last 30 years, but the creative forces behind the series have also found an insane number of ways to adapt iconic moments from cinema into those storylines – whether it is small visual references or completely lifted material. I have to say that my own personal favorite is the adaptation of The Shining that the series did during their "Treehouse of Horror V" Halloween episode; no TV and no beer make Homer go crazy.
Whether you're a fan of The Simpsons, iconic cinema, or both, do yourself a factor and check out the video at the top of this article. Now the real question is whether or not we will ever be treated to a sequel for The Simpsons movie at some point in this lifetime. I'm talking to you, Matt Groening.
Originally from Connecticut, Conner grew up in San Diego and graduated from Chapman University in 2014. He now lives in Los Angeles working in and around the entertainment industry and can mostly be found binging horror movies and chugging coffee.
Your Daily Blend of Entertainment News
Thank you for signing up to CinemaBlend. You will receive a verification email shortly.
There was a problem. Please refresh the page and try again.