Watch Wes Anderson's Hyundai Ads That Aired During The Oscars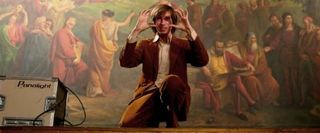 The Super Bowl may have the most celebrated and expensive commercials of all the big TV events, but these ads from Hyundai and filmmaker Wes Anderson top anything we saw on Super Sunday. Of course, as a cinephile and Wes fanatic, it's not hard to see why the more cinematic ads that aired during the 84th Annual Academy Awards ceremony - and were clearly targeting at a film going audience - resonate more deeply than say, the cheap film homages (whether VW's Star Wars or Honda's Ferris Bueller) that played throughout the big game.
These ads from Anderson aren't just triggering nostalgic responses--like something right out of Don Drapers 'Carousel Speech' from Mad Men--but instead use the cultural nods, like spoofing spy cars and Knight Rider, as part of his own aesthetic and narrative. Though the commercials may be short, they are perfectly Wes. The two Hyundai spots directed by the idiosyncratic artist are called "Talk to My Car" and "Modern Life" and I'm not sure which one I love more. Take a look.
"Talk to My Car."
"Modern Life."
The beautiful and meticulous compositions as well as the stunning art direction mark the advertisements immediately as products of the often unfairly maligned filmmaker. Sure, there are many imitators but how can you hold that against Anderson? And anytime you can instantly spot an artist's work - even if the work happens to be a Hyundai, Artois, AT&T or American Express advertisement - I'd say that is something special. Anyone who wants to argue auteur theory or its relevance in today's landscape need look no further than these ads. Love him or hate him, you have to at least respect that he has a vision that is unique and uniquely his. And I can't wait for Moonrise Kingdom.
Here's the trailer for his upcoming film that stars Jared Gilman, Kara Hayward, Bruce Willis, Edward Norton, Bill Murray, Frances McDormand, Jason Schwartzman, Tilda Swinton and Harvey Keitel. It opens May 16, 2012.
Your Daily Blend of Entertainment News
Your Daily Blend of Entertainment News
Thank you for signing up to CinemaBlend. You will receive a verification email shortly.
There was a problem. Please refresh the page and try again.