Watch Women Beat The Hell Out Of People In This Epic Supercut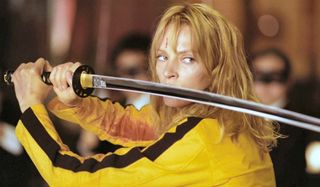 Do you like films with strong female leads? Do you like to watch "the fairer sex" prove that they're not as fair as society has often portrayed them? Then you'll get a kick out of this supercut tribute to women in prominent action movie roles…literally.
Women have been kicking ass on the big screen since before Sigourney Weaver proved she could hold her own against vicious aliens in Alien, but over the last 36 years, stars like Milla Jovovich (in The Fifth Element and Resident Evil), Carrie Anne-Moss (The Matrix), Linda Hamilton (the original Terminator movies) and Uma Thurman (Kill Bill) have succeeded her as the kick-ass female action stars of the modern era. This supercut seems to honor the ladies by giving us a taste of some of their best moments.
Compiled by Vimeo user ClaraDarko (opens in new tab), the clips are cut to the song "Derezzed" by Daft Punk, and one element of commonality that you may have noticed between all of the women featured is that the video works to avoid all "super-powered characters." To some extent, we can agree with this creative choice — superpowers can be considered an unfair advantage, and some, like Jean Grey's and Storm's aren't based in muscle. But they're still pretty badass to behold. That being said, comic book movies aren't completely ignored here, as there are multiple clips of Scarlett Johansson's Black Widow doing a whole bunch of ass-whooping in Iron Man 2.
Watching and remembering how formidable these actresses are in their respective roles, it's crazy to think that Hollywood has been so ambivalent and sketchy when it comes to making more action movies with female character-driven stories. Thankfully there are hordes of outspoken fans calling for it and filmmakers like Joss Whedon, Luc Besson and James Cameron doing their part to introduce pop culture to more modern action heroines to celebrate. To some extent, we also have the rise of the modern geek to be thankful for this change. As more and more male geeks came out of the closet to profess their love of comic books and video games, so too did more women with similar feelings towards superheroes and sci-fi.
Cool as it is to watch videos like this, though, there is another level that Hollywood needs to get to when it comes to women. We are thankful for characters featured in the above supercut like Anne Hathaway's Catwoman or Zoe Saldana's Neytiri, but it's time for the industry to get more female writers and directors working. It's one thing for forward-thinking men to utilize their female characters in new and interesting ways, but it's another for women filmmakers to come in and tell their own stories. This is partly why we're so excited to see what DC's Wonder Woman movie will look like. Not only does it already have its female action star — Fast and Furious' Gal Gadot — but it has Michelle MacLaren in the director's chair. After watching her work in awe on Breaking Bad and The X-Files, we're thrilled she's getting her chance in the spotlight of the silver screen. Hopefully, this means great things for the future of Hollywood.
Your Daily Blend of Entertainment News
Thank you for signing up to CinemaBlend. You will receive a verification email shortly.
There was a problem. Please refresh the page and try again.