Watch Yoda Fight With A Lightsaber And Ward Off The Dark Side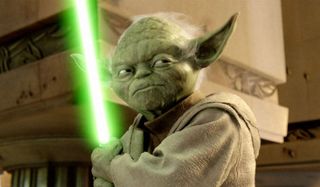 If you remember back during the International Toy Fair, Hasbro unveiled a Chewbacca-themed Furby called Furbacca. But San Diego Comic-Con has this one beat. Introducing Legendary Yoda! The toy was previewed during the toy fair, but we were able to get up close and very personal with the small green Jedi master. We still have much to learn from him.
Legendary Yoda hails from Spinmaster and stands at 16.5 inches tall. Depending on what phrase you speak to it, this Yoda will perform a variety of tricks and catchphrases. For example, when I said, "I'm ready to train, master Yoda," the toy ignites his lightsaber and proceeds to spar with you. Note that he does lurch forward, and his handler had to hold him back to keep him from falling off the table.
Legendary Yoda can also teach you how to master the Force. Inserting the figure into "Force Mode" will cause him to react when you try to inflict Force push on him. He can throw up his hands in defense mode or push back. He can even visibly absorb the Dark Side, as there's an LED light embedded in his hand for dramatic effect. But best of all, he'll give you sassy advice for improving your technique. Though Frank Oz voiced Yoda in the original Star Wars films, Legendary Yoda is voiced by Tom Kane, who portrayed the character in the Star Wars: The Clone Wars, as well as a slew of Star Wars video games. And there are 115 iconic catchphrases to hear, which means there are 115 ways he can make you feel inadequate.
For the most part, Disney stayed away from Comic-Con this year, presumably in favor of a larger turn out during the D23 Expo later on. Unfortunately, this meant that there wasn't all that much to be seen from Star Wars: The Force Awakens, apart from limited product and clothing displays. A life-size version of Rey's speeder was present for photo ops, but Legendary Yoda easily stole the spotlight. Here's an official video preview for the figure.
Lucasfilm will have a presence at Comic-Con with a Star Wars presentation in Hall H. It's said there won't be a new trailer, but the studio will unveil a behind-the-scenes look at the making of The Force Awakens. So far, we know that it centers on a new trio of characters played by John Boyega, Daisy Ridley and Oscar Isaac. Finn (Boyega) is said to be a defected Stormtrooper on the run. When he lands on the desert planet of Jakku, he crosses paths with a scavenger named Rey (Ridley). Elsewhere, Poe Dameron (Isaac) is the best X-Wing pilot in the galaxy who is sent on a mission by "a certain princess" that ends up entwining his destiny with that of Finn.
Star Wars: The Force Awakens hits theaters on December 18.
Your Daily Blend of Entertainment News
Thank you for signing up to CinemaBlend. You will receive a verification email shortly.
There was a problem. Please refresh the page and try again.