Yoda Is Returning To The Star Wars Franchise, Get The Details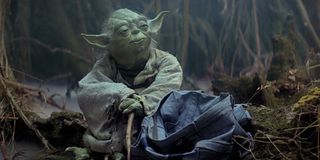 Disney is doing some awesome work with its new animated show on Disney XD, Star Wars Rebels. The show, which is set between the events in Star Wars III: Revenge of the Sith and Star Wars IV: A New Hope, is about to get a visit from a familiar, iconic face...or at least an iconic voice. Soon, we can expect to get a visit from the one and only Yoda, voiced by Frank Oz, in the upcoming episode "Path of the Jedi".
In the upcoming episode, Yoda will be offering advice to Kanan and his Padawan, Ezra. To give you a little background, after the events in Revenge of the Sith, all of the surviving Jedis--including Yoda--are hiding out. Kanan and Ezra are on the remote planet of Lothal. Because the showrunners did not want to make it seem as though Yoda could teleport from planet to planet, Yoda's "cameo" on Rebels will be in the form of a disembodied voice to help guide Kanan and Ezra. As executive producer David Filoni tells TV Guide, he felt that having Yoda appear in the form of a disembodied voice rather than in person would "confuse the audience less."
Filioni also mentions due to the Star Wars universe getting a reboot in The Force Awakens, the brains behind Star Wars Rebels work overtime to make sure the show fits into the lore of the original six Star Wars films, the expanded universe, and the Clone Wars series.
While Star Wars Rebels is bringing us a bunch of inventive and fun new characters, including one of the show's lead characters, hooligan-to-powerful-Jedi, Ezra Bridger (voiced by Taylor Gray) and renegade Jedi Kanan Jarrus (voiced by Freddie Prinze, Jr.), it's also keeping its feet planted firmly in the stories and characters from the original films. A few months ago the show even offered fans a cameo of Darth Vader. If the show continues the way it is headed now, bringing in classic characters (with the original actors providing the voices) alongside the new, it looks like this show could have a long exciting life in the Star Wars universe.
You can check out Star Wars Rebels and follow the crew of the Ghost as they try to survive in the face of the ever-present threat of the Galactic Empire and the Inquisitor (voiced by Jason Isaacs), a villain tasked by Vader himself to kill any remaining Jedi in the galaxy. You can also watch the 44-minute special, The Spark of Rebellion, that kicked off the entire series on demand on the Disney XD website, and you can catch the regular show when it airs Monday nights on Disney XD. Yoda's episode "Path of the Jedi" will air on January 5, 9/8c on Disney XD.
Your Daily Blend of Entertainment News