We're Getting A Giant Shark Movie, Get The Details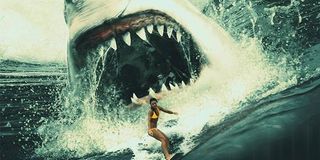 It appears that the Cretaceous killer success of Jurassic World may have provided enough momentum to get a long-idle project about a gigantic prehistoric throwback of a shark to shallow waters. It is being reported that a film based on the bestselling novel, Meg is moving forward with none other than horror master, Eli Roth circling to take the helm.
According to a report from Variety, Warner Bros. is moving forward with a potential tentpole project in Meg, based on the 1997 series-spawning novel of the same name by Steve Alten. Residing in developmental purgatory for nearly two decades, the giant shark film will now look to move forward with the Hostel series and Cabin Fever mastermind, Eli Roth currently in talks to direct.
The atmosphere for such a project is ever-ripe with Jurassic World, which also showcased its own memorable sea monstrosity. Warner Bros. has been reportedly enthusiastic about the Meg script by Dean Georgaris, who wrote Lara Croft: Tomb Raider: The Cradle of Life and the reboot of The Manchurian Candidate. However, with Jurassic World's $208.8 million opening weekend becoming nearly as awe-inspiring as the dinosaurs it showcased, there can be little doubt that efforts were expedited. Yet, the potential recruitment of Eli Roth to the director's chair points to a darker direction than the Jurassic films; possibly indicating that we could be looking at a completely new take on the "giant creatures swallowing people whole" genre from the cinematic auteur of torture.
Alten's Meg book series follows a protagonist in a former U.S. Navy submersible pilot with a paleontology Ph.D. named Jonas Taylor who's looking to prove that a horrible encounter years earlier with an ancient species of shark was, indeed, not just the worst big fish story ever. His obsession leads him seven miles down the Mariana Trench to pursue the titular terror, the Carcharadon Megalodon; a prehistoric 60 foot, 70,000 pound Great White Shark with 7 inch long serrated teeth attached to jaws that open wide enough to swallow six grown men in one bite. What happens from there is full of dreadful, deep sea torment filled with human-chummed waters and over-the-top twists and turns. Watch this trailer below for a recent anniversary edition of the book to get a better feel for the property.
While detractors of Alten's Meg novels have criticized their superficiality and loose research, fans have found the mix between fact and fiction workable enough to enjoy the novels for their element of pure excitement. It will certainly be interesting to see exactly how Meg can translate to the big screen; especially given its possible creative captain in Roth. If the film is, indeed, capitalizing on Jurassic momentum, then the brooding claustrophobic scarlet-soaked calamity of R-rated revulsion one might mentally evoke with the name, "Eli Roth" might just render such momentum moot. Thus, we might be witnessing Roth turning over a new mainstream leaf.
While nothing as far as production or release dates have been set for Meg, you can catch Eli Roth's upcoming latest work starring Keanu Reeves as a femme fatale-plagued family man in Knock Knock, which will see its wide release sometime later this year.
Your Daily Blend of Entertainment News
Thank you for signing up to CinemaBlend. You will receive a verification email shortly.
There was a problem. Please refresh the page and try again.