Knock Knock Trailer Offers Keanu Reeves, 3-Way Sex And Creepiness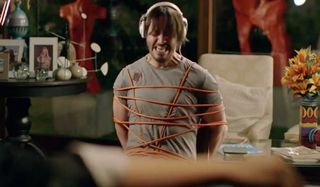 Keanu Reeves is the one who knocks. Come on, you knew that one was coming. Unfortunately, for John Wick, doing so doesn't elevate him to Heisenberg status. The new Knock Knock trailer has arrived to preview a creep-tastic girls-gone-wild movie. Instead of women with low self-esteem taking their tops off for the camera, this bff duo uses wild in the psychopathic sense.
Reeves plays a family man named Evan Webber in Knock Knock. He's happily married to a wife, with whom he has a daughter. One day when he's home alone, two young women show up on his doorstep soaked from the torrential downpour outside. They have some car trouble and their only cellphone is wet. Evan welcomes them into his home to use the phone, dry off their clothes and shower. And what better way to thank the man who rescued them from the col than having a crazy threesome? Of course, like most men in horror films, sex doesn't lead to good times. The girls return soon after to torture him in his own home, and as it turns out, they've done this to a number of men before and none have survived.
This looks like another spine-tingling tale from horror maven Eli Roth. As if he wasn't satisfied with torturing his audiences through the cannibal thriller The Green Inferno, the hard-to-watch Hostel movies or his Netflix original series Hemlock Grove, he has to bring in two crazy-faced killers who put the "fatal" in femme fatale. Taking these roles are Lorenza Izzo and Ana De Armas. Izzo has been featured in a number of Roth's projects, including the previously mentioned and Aftershock. De Armas, on the otherhand, is more unknown to mainstream audiences, though she has a slew of Spanish-language titles to her name.
The broken down car, the rainy night, the unexpected houseguests, the family man who gives into temptation, and the secretly insane female character (or characters) who wreak havoc are all, unfortunately, cliches of the horror genre. It's hard to judge a book by its cover — in this case the Knock Knock trailer. But being that it is Roth at the helm and Reeves in the lead role, after coming off of an incredible performance in John Wick, we still have high hopes for this film.
Knock Knock debuted at the Sundance Film Festival earlier this year. Though it doesn't currently have a U.S. release date, it's set to premiere in the U.K. on June 26, with other international releases following in the months ahead. We can likely expect a domestic theatrical debut to fall within this same time frame.
Your Daily Blend of Entertainment News