Weekend Box Office: The Butler Still Number One; The Mortal Instruments and You're Next Fizzle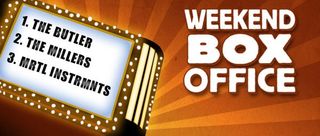 Despite several new releases in theaters, this weekend's top sales went to last week's number one, Lee Daniels' The Butler. None of the newcomers could break into the second place spot either, leaving that honor to last weekend's number two We're The Millers.
Third place went to The Mortal Instruments: City of Bones. Adapted from a book series, the movie was clearly expected to be the first of many. But after suffering a disappointing opening of just $9 million, and only $14 million in its first five days, the future looks grim. Whether audiences are tired of the teenagers-caught-up-in-the-supernatural-vampire/demon/werewolf-world genre or just uninterested in this lesser known variation on the theme, the franchise might well be DOA.
The World's End may have only come in fourth place, but the $8 million it banked this weekend is good news. The two previous collaborations between Simon Pegg and Edgar Wright, Shaun of the Dead and Hot Fuzz, did well enough in their own right, but this third outing has done better than either of those, with the promise to take in a higher gross as well. With an almost cult-like following and just $20 million in budget costs to recover, The World's End is still a win even with the relatively quiet debut.
Despite a major advertising presence over the last few weeks and expectations that it would be the top flick this weekend, horror movie You're Next limped in at seventh place. With just $7 million, it the had the lowest opening weekend for a wide release horror at the box office so far this year.
Woody Allen's new comedy Blue Jasmine expanded to 1,200+ venues, giving it enough presence to sneak into the number nine spot with $4 million. With $14 million in sales so far it's proving to be one of Allen's higher grossing films, but still well behind his biggest financial success, 2011's Midnight in Paris.
For the full weekend top ten, check out the chart below:
1.
Lee Daniels' The Butler

$17,018,000Total: $52,275,000LW: 1
THTRS: 3,110
2.
We're the Millers

$13,500,000Total: $91,740,000LW: 2
THTRS: 3,445
3.
The Mortal Instruments: City of Bones *

$9,300,000Total: $14,051,000LW: N
THTRS: 3,118
4.
The World's End *

$8,942,000Total: $8,942,000LW: N
THTRS: 1,549
5.
Planes

$8,567,000Total: $59,591,000LW: 4
THTRS: 3,378
6.
Elysium

$7,100,000Total: $69,054,000LW: 3
THTRS: 2,913
7.
You're Next *

$7,050,000Total: $7,050,000LW: N
THTRS: 2,437
8.
Percy Jackson: Sea of Monsters

$5,200,000Total: $48,346,000LW: 6
THTRS: 2,730
9.
Blue Jasmine

$4,300,000Total: $14,799,000LW: 14
THTRS: 1,283
10.
Kick-Ass 2

$4,270,000Total: $22,423,000LW: 5
THTRS: 2,945
Your Daily Blend of Entertainment News
Thank you for signing up to CinemaBlend. You will receive a verification email shortly.
There was a problem. Please refresh the page and try again.