Weekend Box Office: The Force Awakens Sinks Titanic and Targets Avatar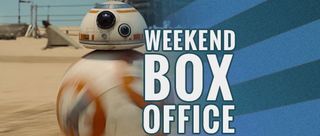 Beginning its third week in release Star Wars: The Force Awakens continues to dominate the box office. Most movies with massive openings tend to drop off more quickly than others, but the seventh Star Wars film continues to buck that trend, slipping just 40% each weekend, retaining a death grip on the number one spot and securing a truly significant place in box office history: biggest domestic total of all time.
Adding $88 million this weekend, The Force Awakens shredded its way into $700 million territory to the tune of $740 million in domestic sales. That's just $20 million away from topping Avatar's record holding $760 million domestic total, a goal it will probably hit before next weekend rolls around. The question now is whether or not the movie will become the first ever to break $1 billion. While the movie is still going strong, that mark is still over $250 million away and hardly a sure thing.
While the movie is busting its way along in North America, the movie isn't doing as well internationally as other recent massive blockbusters. Looking at the top ten world-wide grossing movies, they tend to have a 2 to 1 ratio of sales between international and domestic. For example, Avatar, the current world-wide grossing champion, had over $2 billion in international sales compared with its $760 million domestic. Titanic grossed $1.5 billion internationally to its $658 million domestic. So far Star Wars: The Force Awakens is almost 1 to 1, having just $770 million in international sales compared to $740 million domestic. Why?
For one thing, the movie hasn't hit China yet. Avengers: Age of Ultron drew almost $250 million from Chinese audiences and Star Wars: The Force Awakens could do just as well in that market, but even that wouldn't be enough to cover the difference. Another element is ticket prices. The Force Awakens has been doing exceptionally well (record breakingly well, in fact) in IMAX and 3D venues where ticket prices are higher. The domestic market makes up a sizable portion of those sales, giving it another edge over international prices. And then there's the tendency of American Star Wars fans to engage more often in repeat viewings than their international brethren. Why see it once when you can see it twice? Every weekend. For the rest of January!
With no other new releases the box office top ten looks pretty much the same as last weekend with the exception of The Hateful Eight popping from tenth place to third as it expanded into wide release with a $16 million wide opening weekend. You might not consider that too bad given that it's in the shadow of Star Wars, but it's two step backwards for Tarantino whose last two movies, Inglorious Basterds and Django Unchained each cleared $100 million. Hateful Eight looks to settle in somewhere between $50 to $75 million.
For the full weekend top ten, check out the chart below:
1.
Star Wars: The Force Awakens

$88,300,000Total: $740,265,583LW: 1
THTRS: 4,134
2.
Daddy's Home

$29,000,000Total: $93,684,495LW: 2
THTRS: 3,342
3.
The Hateful Eight

$16,240,000Total: $29,577,963LW: 10
THTRS: 2,474
4.
Sisters

$12,580,000Total: $61,703,640LW: 4
THTRS: 2,978
5.
Alvin and the Chipmunks: The Road Chip

$11,800,000Total: $67,376,640LW: 5
THTRS: 3,474
6.
Joy

$10,400,000Total: $38,721,460LW: 3
THTRS: 2,924
7.
The Big Short

$9,000,000Total: $32,979,117LW: 6
THTRS: 1,588
8.
Concussion (2015)

$8,000,000Total: $25,370,000LW: 7
THTRS: 2,841
9.
Point Break (2015)

$6,845,000Total: $22,430,000LW: 8
THTRS: 2,910
10.
The Hunger Games: Mockingjay - Part 2

$4,625,000Total: $274,222,959LW: 9
THTRS: 1,485
Your Daily Blend of Entertainment News
Thank you for signing up to CinemaBlend. You will receive a verification email shortly.
There was a problem. Please refresh the page and try again.