Weekend Box Office: Great Gatsby Grasps Gratifying Gross, Iron Man Still Number One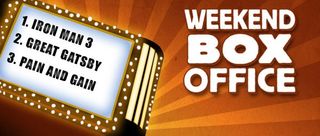 Gatsby was indeed great this weekend. Baz Luhrmann's adaptation of the F. Scott Fitzgerald classic bowed in with $51 million, the third largest opening of the year to date. That was something of a financial coup for Luhrmann as The Great Gatsby made more this weekend than most of his movies have earned domestically during their entire run. But, as great as it was, it still wasn't enough to swing number one.
Last weekend's champ Iron Man 3 held on to the top spot, adding $72 million to its now $284 million domestic total. That pushed it well ahead of Oz The Great and Powerful's $229 million as the highest grossing film so far this year. Slightly bigger news is that the third Iron Man entry is poised to fly past the $1 billion mark in international sales by next weekend, making it possible that the movie will break into the international all time top ten before the summer is out.
Tyler Perry might not have been behind the camera for Tyler Perry Presents Peeples, but as producer having his name in the title didn't seem to help the movie live up to his usual box office performance. With just $4.8 million the movie tanked in at a very distant fourth place.
For the full weekend top ten, check out the chart below:
Swipe to scroll horizontally
1.
Iron Man 3
$72,472,000
Total: $284,893,000
LW: 1 WR: 2
THTRS: 4,253
Swipe to scroll horizontally
2.
The Great Gatsby (2013) *
$51,115,000
Total: $51,115,000
LW: N WR: 1
THTRS: 3,535
Swipe to scroll horizontally
3.
Pain and Gain
$5,000,000
Total: $41,608,000
LW: 2 WR: 3
THTRS: 3,303
Swipe to scroll horizontally
4.
Tyler Perry Presents Peeples *
$4,850,000
Total: $4,850,000
LW: N WR: 1
THTRS: 2,041
Swipe to scroll horizontally
5.
42
$4,650,000
Total: $84,732,000
LW: 3 WR: 5
THTRS: 2,930
Swipe to scroll horizontally
6.
Oblivion
$3,864,000
Total: $81,655,000
LW: 4 WR: 4
THTRS: 2,770
Swipe to scroll horizontally
7.
The Croods
$3,600,000
Total: $173,215,000
LW: 5 WR: 8
THTRS: 2,650
Swipe to scroll horizontally
8.
The Big Wedding
$2,500,000
Total: $18,288,000
LW: 6 WR: 3
THTRS: 2,298
Swipe to scroll horizontally
9.
Mud
$2,343,000
Total: $8,363,000
LW: 7 WR: 3
THTRS: 854
Swipe to scroll horizontally
10.
Oz The Great and Powerful
$802,000
Total: $229,985,000
LW: 8 WR: 10
THTRS: 774
Your Daily Blend of Entertainment News