Weekend Box Office: Hunger Games Devours Fourth Number One In A Row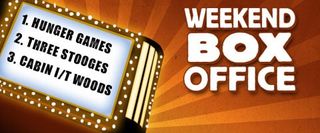 The Hunger Games proved once again to be an unstoppable force, taking the number one spot for the fourth weekend in a row. Dropping just 35% from last week it banked an additional $21 million, bringing its grand total in US sales to an impressive $337 million.
The movie's four-in-a-row success was helped along a bit by the lackluster new competition it faced. The Three Stooges bowed in at second place with just $17 million. Joss Whedon's critically acclaimed Cabin In The Woods settled for third place with just $14 million. It's a disappointing result for Whedon, whose work is always top notch but who can't seem to catch a break from audiences. At least studios know he's talented. His work as director on the upcoming Avengers should give him the box office cred he deserves.
Luc Besson's latest sci-fi action effort Lockout settled for a very distant ninth place earning just $6 million. While Besson hasn't generally helmed major box office draws, this marks a low point. He hasn't had a wide-release movie open this quietly since The Messenger: The Story of Joan of Arc hit theaters in 1999.
For the full weekend box office, check out the chart below.
1.

The Hunger Games
$21,500,000
Total: $337,070,000
LW: 1 WR: 4
THTRS: 3,916
2.

The Three Stooges *
$17,100,000
Total: $17,100,000
LW: N WR: 1
THTRS: 3,477
3.

The Cabin in the Woods *
$14,850,000
Total: $14,850,000
LW: N WR: 1
THTRS: 2,811
4.

Titanic 3D
$11,625,000
Total: $44,419,000
LW: 3 WR: 2
THTRS: 2,697
5.

American Reunion
$10,700,000
Total: $39,900,000
LW: 2 WR: 2
THTRS: 3,203
6.

Mirror Mirror
$7,000,000
Total: $49,468,000
LW: 5 WR: 3
THTRS: 3,206
7.

Wrath of the Titans
$6,905,000
Total: $71,251,000
LW: 4 WR: 3
THTRS: 3,102
8.

21 Jump Street
$6,800,000
Total: $120,565,000
LW: 6 WR: 5
THTRS: 2,735
9.

Lockout *
$6,250,000
Total: $6,250,000
LW: N WR: 1
THTRS: 2,308
10.

Dr. Seuss' The Lorax
$3,020,000
Total: $204,483,000
LW: 7 WR: 7
THTRS: 2,112