Weekend Box Office: Maleficent Charms Its Way To Number One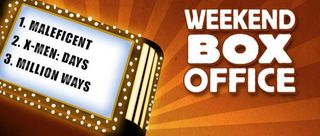 Maleficent may have taken one of Disney's most wicked and terrifying villains and turned her into a limp shadow of her former self, but the film's sparkling marketing and Angelina Jolie's ability to look beautifully creepy in horns and cheek-bone defining facial appliances led the movie to a $70 million number one this weekend.
That total doesn't hold up to the last time Disney took one of its animated classics and converted it to live action. In 2010 Tim Burton's Alice in Wonderland debuted in March to the tune of $116 million. While Disney couldn't recreate Alice's financial success, it did outpace Universal's attempt at a live-action fairytale, topping the $56 million opening of Snow White and the Huntsman from two years ago.
Strictly speaking Maleficent's $70 million is the highest opening ever for an Angelina Jolie headliner, but when adjusted for ticket price inflation it falls well behind many of her past flicks including Mr. and Mrs. Smith, Wanted and both Lara Croft entries.
Seth MacFarlane had rough weekend. His second feature writing/directing effort A Million Ways to Die in the West opened with just $17 million, well behind the $54 million Ted banked its open weekend in June, 2012. Million Ways' start was good enough for third place, but with weak international sales it wasn't enough to put it on track for much profitability against a reported $40 million production budget.
X-Men: Days of Future Past dropped a sharp 64% from its opening weekend, adding $32 million to its now $162 million total. Dollar for dollar it's still holding up with other top performers in the franchise, but with ticket price inflation rolled in it's seeing the same drop in seats sold that the Spider-Man franchise has been experiencing.
The Amazing Spider-Man 2 inched closer to $200 million in domestic sales, adding $3 million to its $192 million domestic total. It's on track to just barely pass $200 million, making it the lowest domestic earner in the franchise history.
For the full weekend top ten, check out the chart below:
1.
Maleficent *

$70,000,000Total: $70,000,000LW: N
THTRS: 3,948
2.
X-Men: Days of Future Past

$32,600,000Total: $162,069,000LW: 1
THTRS: 4,001
3.
A Million Ways to Die in the West *

$17,069,000Total: $17,069,000LW: N
THTRS: 3,158
4.
Godzilla (2014)

$12,225,000Total: $174,657,000LW: 2
THTRS: 3,501
5.
Blended

$8,425,000Total: $29,632,000LW: 3
THTRS: 3,555
6.
Neighbors

$7,715,000Total: $128,601,000LW: 4
THTRS: 2,939
7.
The Amazing Spider-Man 2

$3,775,000Total: $192,730,000LW: 5
THTRS: 2,152
8.
Million Dollar Arm

$3,700,000Total: $28,097,000LW: 6
THTRS: 2,329
9.
Chef

$2,009,000Total: $6,924,000LW: 9
THTRS: 624
10.
The Other Woman (2014)

$1,425,000Total: $81,112,000LW: 7
THTRS: 1,114
Your Daily Blend of Entertainment News
Thank you for signing up to CinemaBlend. You will receive a verification email shortly.
There was a problem. Please refresh the page and try again.