Weekend Box Office: Monsters University On Top Again As The Heat Roasts White House Down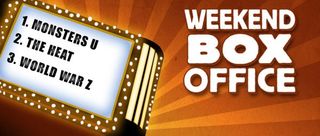 Channing Tatum... Jamie Foxx... Sandra Bullock... Melissa McCarthy... Those were the big names being tossed around television and internet commercials this week, but they didn't grab as much attention as two others: Mike and Sully.
For a second week in a row Monsters University stood at the front of the box office class, adding $46 million to its $171 million domestic and $300 million international totals. With only a 44% drop from last weekend, the sequel is showing more staying power than most other Pixar films have, and while its sales are out pacing that of Monsters Inc., total tickets sold is still lower than they were for when factoring in inflation to the numbers for the now eleven year-old predecessor.
Fem buddy cop comedy The Heat opened in a close second place with $40 million. That's pretty exceptional for an untested genre starring an unlikely, albeit well-known, pair of leading ladies, and from a financial point of view it's a great start for a movie launched on a $43 million production budget. It also marks the highest grossing debut for a Sandra Bullock flick and a near second highest for Melissa McCarthy who appeared in The Hangover III with its $41 million opening.
And then there's White House Down. Banking just $25 million against its explosion laden $150 million budget, the movie limped in at fourth place. There were plenty of reasons to see the blockbuster hopeful this weekend, but there were also plenty of reasons to skip it.
If you wanted to see the White House under siege, you already had your chance earlier this year with the much more dramatically named (and equally poor in the review department) Olympus Has Fallen. And Channing Tatum as an action star? Women pay big bucks to swoon when he takes off his shirt or sweeps the lead female character off her feet. If he's going to be a single dad, audiences want to see him wooing the young girl's future step-mom, not wooing Jamie Foxx with the world's most intense job application. When Tatum isn't backed up by the Rock or a line of nostalgia-inducing action figures, his action dramas tend to not do so well. Remember The Eagle or Fighting? No? I rest my case.
For the full weekend top ten, check out the chart below:
1.

Monsters University
$46,180,000
Total: $171,006,000
LW: 1 WR: 2
THTRS: 4,004
2.

The Heat *
$40,000,000
Total: $40,000,000
LW: N WR: 1
THTRS: 3,181
3.

World War Z
$29,800,000
Total: $123,722,000
LW: 2 WR: 2
THTRS: 3,607
4.

White House Down *
$25,700,000
Total: $25,700,000
LW: N WR: 1
THTRS: 3,222
5.

Man of Steel
$20,820,000
Total: $248,660,000
LW: 3 WR: 3
THTRS: 4,131
6.

This is the End
$8,700,000
Total: $74,681,000
LW: 4 WR: 3
THTRS: 2,710
7.

Now You See Me
$5,500,000
Total: $104,681,000
LW: 5 WR: 5
THTRS: 2,564
8.

Fast & Furious 6
$2,410,000
Total: $233,313,000
LW: 6 WR: 6
THTRS: 1,550
9.

Star Trek Into Darkness
$2,040,000
Total: $220,501,000
LW: 9 WR: 7
THTRS: 1,035
10.

The Internship
$1,425,000
Total: $41,705,000
LW: 8 WR: 4
THTRS: 1,008
Your Daily Blend of Entertainment News
Thank you for signing up to CinemaBlend. You will receive a verification email shortly.
There was a problem. Please refresh the page and try again.