White House Down Stumbles At Friday Box Office, While The Heat Takes Over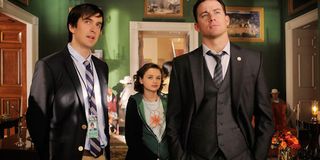 Alright, people, I don't know what else we can possibly give you. It's just before the Fourth of July, and you need something to see at the movies. Roland Emmerich, the guy who brought you Independence Day is back, and he's once again blowing up the White House. And the Capitol. And he's got Channing Tatum and Jamie Foxx (as the President, for God's sake!) running around trying to stop the terrorists who did it. How is this not the best idea ever? Didn't you watch the video of me and Sean telling you how awesome it was?
Unfortunately, not nearly enough of you seem to be listening. According to the early numbers at Deadline, White House Down made just $10.5 million on Friday, putting it on track for a $30 million weekend and a likely fourth-place finish That's pretty rough for an expensive ($150 million) action movie, with two major stars and tons of marketing, expected to finish neck-and-neck with the weekend's other biggest release, The Heat. In excellent news for fans of female stars, though, that film is doing excellently. The buddy cop comedy starring Melissa McCarthy and Sandra Bullock made $15 million on Friday, good enough for a second place berth behind Monsters University with an estimated $41 million for the weekend. You can't feel too bad for the R-rated comedy not able to best the hugely successful and family-friendly Monsters University, which made $15.2 million on Friday, and should handily hang on to first place for the weekend.
To be fair, White House Down was not quite as well-reviewed as The Heat-- not everybody went nuts for the gonzo effects of Roland Emmerich's latest film, while even the skeptics could admit that The Heat's messy moments were overshadowed by some seriously funny ones. But come on, America! Roland Emmerich, though he is a German by birth, is our national bard of giant amped-up explosions taking over our most beloved monuments. When you're grilling outside or waving a flag on Independence Day next Thursday, take a moment to think about all Roland Emmerich has done for our national identity… and then hang your head in shame about how you didn't come out to support him in his time of need.
It's not too late, of course! If you've already seen The Heat, get out there and buy another ticket for White House Down. Sure, both of them are full of guns and quips and likable stars but that's all you'd ever need in a blockbuster anyway. Apparently the surprising holdover success of World War Z-- which could edge White House Down out of third place by the end of the weekend-- is part of what's keeping the more macho movie down. But White House Down, I promise you, is way more fun than World War Z-- and a hell of a lot less depressing. Put on your American flag lapel pin, read up on the Constitutional laws about the order of succession, and go see White House Down today. It's what our forefathers would have wanted.
Staff Writer at CinemaBlend
Your Daily Blend of Entertainment News
Thank you for signing up to CinemaBlend. You will receive a verification email shortly.
There was a problem. Please refresh the page and try again.