Weekend Box Office - New Moon Gets Blindsided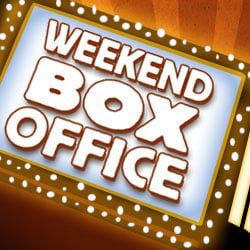 Sandra Bullock and Tim McGraw, stars of The Blind Side have had to play second fiddle to the 90210 of the vampire world The Twilight Saga: New Moon, since both movies opened two weeks ago. But this week the moon has waned heavily, giving the based-on-a-true-story football flick it's moment at center field.
The Blind Side took in $20 million over the first weekend of December, pushing New Moon into second with only $15 million. Despite having been in theaters for two weeks already, both movies handily topped out the new competition.
Oscar-bait Brothers, which teams Jake Gyllenhaal, Tobey Maguire and Natalie Portman, debuted at third place with $9 million, not bad for a rated-R flick that only has bitterness and dramatic tension, and shirtless Gyllenhaal to offer holiday audiences.
Limply marketed Armored bowed in at a depressing seventh place with only an estimated $6.5 million, but that's better than Robert DeNiro's attempt at a holiday comedy, Everybody's Fine, which only took in $4.0 million to sneak the bottom spot in the top ten.
Justin Reitman's Up In The Air stretched its legs in a limited 15 theater release, banking a solid $1.1 million. Meanwhile, the sleepy Transylmania banked only $252,000 despite bowing in on over 1,000 screens. I don't know about you, but it always gives me a warm feeling when a really bad movie makes really bad money.
Disney's A Christmas Carol has shown the kind of staying power the studio must have been banking on when the movie was released a month ago. Jumping from fifth place up to fourth place this weekend, it's earned $115 million to date in the US. Match that with the $90 million it's estimated to have taken in Internationally and the film has scratched its way over its bulky $200 million budget. If it can continue to hold fast over the holiday season, it may just turn out to be a Merry Christmas for the movie fater all.
For the full top ten box office results, check out the chart below:
Swipe to scroll horizontally
1.
The Blind Side
$20,440,000 -
Total: $129,264,000
LW: 2 WR: 3
THTRS: 3,326
Swipe to scroll horizontally
2.
The Twilight Saga: New Moon
$15,704,000 -
Total: $255,639,000
LW: 1 WR: 3
THTRS: 4,124
Swipe to scroll horizontally
3.
Brothers *
$9,700,000 -
Total: $9,700,000
LW: N WR: 1
THTRS: 2,088
Swipe to scroll horizontally
4.
A Christmas Carol (2009)
$7,520,000 -
Total: $115,006,000
LW: 5 WR: 5
THTRS: 2,546
Swipe to scroll horizontally
5.
Old Dogs
$6,901,000 -
Total: $33,934,000
LW: 4 WR: 2
THTRS: 3,425
Swipe to scroll horizontally
7.
2012
$6,600,000 -
Total: $148,787,000
LW: 3 WR: 4
THTRS: 3,220
Swipe to scroll horizontally
6.
Armored *
$6,600,000 -
Total: $6,600,000
LW: N WR: 1
THTRS: 1,915
Swipe to scroll horizontally
8.
Ninja Assassin
$5,030,000 -
Total: $29,790,000
LW: 6 WR: 2
THTRS: 2,503
Swipe to scroll horizontally
9.
Planet 51
$4,300,000 -
Total: $33,966,000
LW: 7 WR: 3
THTRS: 2,904
Swipe to scroll horizontally
10.
Everybody's Fine *
$4,027,000 -
Total: $4,027,000
LW: N WR: 1
THTRS: 2,133
Your Daily Blend of Entertainment News