Weekend Box Office: Spectre And The Peanuts Movie Get November Off To A Strong Start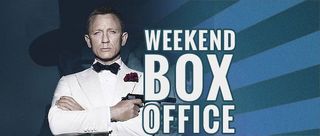 November came crashing into theaters this weekend, finally pushing the lingering successes of a weak October out of the way and setting up what is likely to be one of the stronger holiday seasons at the box office.
James Bond made a strong return for the fourth installation with Daniel Craig in the role of 007. Spectre opened at number one with $73 million, a solid start despite being down from the $88 million opening for Skyfall. Craig and director Sam Mendes, neither of whom has had another movie release since Skyfall in 2012, now have two Bond debuts open above $70 million, helping to see the franchise grow financially, well outpacing ticket price inflation.
The Peanuts Movie, expected to be more of a third tier animated feature with an opening in the $20-$25 million range, made a much bigger splash. It landed in second place with $45 million, putting it closer to The SpongeBob Movie: Sponge Out of Water and Hotel Transylvania 2 which bowed in with $55 million and $48 million respectively.
In small release, writer/director Tom McCarthy's latest offering, Spotlight, which boasts an amazing cast list that includes Michael Keaton, Liev Schreiber, Rachel McAdams and Mark Ruffalo, had a great opening weekend. With just 5 screens it pulled a more than $60,000 per venue average for a hot $300,000 start.
Small release openings don't commonly make more than $50,000 per venue (less than ten or so a year usually manage that feat), but the last few weeks have seen more than their fair share. Sicario opened in mid September in 6 theaters with a $66,000 average, and Steve Jobs started in mid October at just 4 locations with a rare $130,000 per theater average.
For the full weekend top ten, check out the chart below:
1.
Spectre *

$73,000,000Total: $73,000,000LW: N
THTRS: 3,929
2.
The Peanuts Movie *

$45,000,000Total: $45,000,000LW: N
THTRS: 3,897
3.
The Martian

$9,300,000Total: $197,067,346LW: 1
THTRS: 2,855
4.
Goosebumps

$6,965,000Total: $66,440,954LW: 2
THTRS: 3,051
5.
Bridge of Spies

$6,086,000Total: $54,971,952LW: 3
THTRS: 2,767
6.
Hotel Transylvania 2

$3,550,000Total: $161,293,404LW: 4
THTRS: 2,274
7.
Burnt

$3,003,000Total: $10,211,287LW: 6
THTRS: 3,003
8.
The Last Witch Hunter

$2,650,000Total: $23,571,701LW: 5
THTRS: 2,286
9.
The Intern

$1,810,000Total: $71,407,251LW: 11
THTRS: 1,071
10.
Paranormal Activity: The Ghost Dimension

$1,650,000Total: $16,281,378LW: 7
THTRS: 1,087
Your Daily Blend of Entertainment News
Thank you for signing up to CinemaBlend. You will receive a verification email shortly.
There was a problem. Please refresh the page and try again.