Weekend Box Office: Sponge Bob Soaks Up Easy Number One, Jupiter Descends as Seventh Son Sputters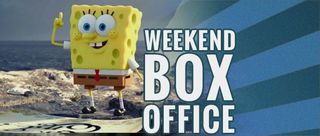 This weekend closed out with one solid winner and two big losers. The long awaited The Spongebob Movie: Sponge Out of Water arrived, landing the number one spot after American Sniper had held the position for longer than exptected three weekends in a row.
Sponge Out of Water's $56 million opening is on part with last year's Big Hero Six which also banked $52 million. While it is the highest opening of 2015 to date(not a particularly important distinction given that it's replacing Taken 3's mediocre $39 million debut) it also out performed the last Spongebob feature The SpongeBob SquarePants Movie which opened with $32 million back in 2004 (this new movie wins out even adjusted for ticket price inflation).
Ticket pre-sales predicted low turn out for both The Seventh Son and Jupiter Ascending and both films delivered on the disappointment. Jupiter Ascending banked just $19 million against a $176 million production budget for a distant third place behind American Sniper. While international sales are helping, it's not likely going to be enough to pull the movie out of the red. The Seventh Son fared worse, taking in just $7 million at fourth place.
For the full weekend top ten, check out the chart below:
1.
The SpongeBob Movie: Sponge Out of Water *

$56,000,000Total: $56,000,000LW: N
THTRS: 3,641
2.
American Sniper

$24,165,000Total: $282,265,000LW: 1
THTRS: 3,885
3.
Jupiter Ascending *

$19,000,000Total: $19,000,000LW: N
THTRS: 3,181
4.
Seventh Son *

$7,101,000Total: $7,101,000LW: N
THTRS: 2,875
5.
Paddington

$5,365,000Total: $57,268,000LW: 3
THTRS: 2,888
6.
Project Almanac

$5,330,000Total: $15,759,000LW: 2
THTRS: 2,900
7.
The Imitation Game

$4,881,000Total: $74,740,000LW: 7
THTRS: 1,963
8.
The Wedding Ringer

$4,800,000Total: $55,100,000LW: 6
THTRS: 2,138
9.
Black or White

$4,520,000Total: $13,123,000LW: 4
THTRS: 1,823
10.
The Boy Next Door

$4,101,000Total: $30,850,000LW: 5
THTRS: 2,193
Your Daily Blend of Entertainment News
Thank you for signing up to CinemaBlend. You will receive a verification email shortly.
There was a problem. Please refresh the page and try again.