Weekend Box Office - Transformers Triumph Again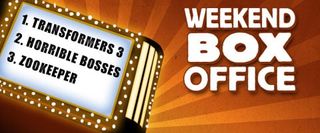 Summer took a box office breather this weekend, letting a couple of non-blockbuster comedies take the lime light before another string of big-budget sequels and franchise entries storm theaters over the next few weeks.
Newcomers Horrible Bosses and Zookeeper made respectable debuts in second and third place with $28 million and $21 million respectively, but it was only good news for one of them.
Horrible Bosses, which shrewdly managed some top names while keeping its budget to a profitable $35 million, is well on its way to breaking into the black. On the other hand, Zookeeper and its CG enhanced talking animals rolled out on a heftier $80 million budget, leaving Kevin James' second headline movie in a bad way financially.
But don't count James out yet. Paul Blart, which was no less comedically flaccid than Zookeeper, opened two years ago with $31 million but went on to make nearly five times that amount in domestic sales.
Transformers: Dark of the Moon held on tight to number one, banking an additional $47 million over the weekend. That brings its total domestic sales to $261 million, pushing it past The Hangover 2's $250 million running total to be highest grossing film of 2011 to date.
For the full weekend top ten list, check out the chart below:
1.

Transformers: Dark of the Moon
$47,025,000
Total: $261,000,000
LW: 1 WR: 2
THTRS: 4,088
2.

Horrible Bosses *
$28,110,000
Total: $28,110,000
LW: N WR: 1
THTRS: 3,040
3.

Zookeeper *
$21,000,000
Total: $21,000,000
LW: N WR: 1
THTRS: 3,482
4.

Cars 2
$15,209,000
Total: $148,828,000
LW: 2 WR: 3
THTRS: 3,990
5.

Bad Teacher
$9,000,000
Total: $78,757,000
LW: 3 WR: 3
THTRS: 2,962
6.

Larry Crowne
$6,264,000
Total: $26,526,000
LW: 4 WR: 2
THTRS: 2,976
7.

Super 8
$4,825,000
Total: $118,056,000
LW: 5 WR: 5
THTRS: 2,292
8.

Monte Carlo
$3,800,000
Total: $16,125,000
LW: 6 WR: 2
THTRS: 2,473
9.

Green Lantern
$3,125,000
Total: $109,709,000
LW: 7 WR: 4
THTRS: 2,015
10.

Mr. Popper's Penguins
$2,850,000
Total: $57,747,000
LW: 8 WR: 4
THTRS: 1,996