Weekend Box Office: Zootopia Threepeats, Allegiant Chokes, The Bronze Bombs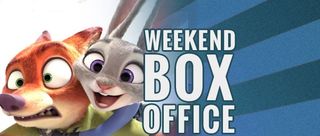 Zootopia enjoyed a roaringly strong third weekend, dropping just 25% from last week. That helped it add $38 million this weekend, narrowly cruising past $200 million. At this rate it will pass Big Hero 6 to become Disney's third highest grossing non-Pixar animated film (yeah, that's a lot of caveats) behind The Lion King ($312 million, 1994) and Frozen ($400 million, 2013).
The Divergent Series fell hard as the third entry to the franchise, Allegiant, debuted in second place with just $29 million. That's almost half of what the $50+ million both previous movies made and marks the first time a franchise entry didn't open at number. Given the lackluster start, it may also be the first to fail to pass the $100 million mark.
The disappointing start doesn't quite qualify as a bomb, given that international sales will help recover its $110 million production budget, but it raises questions over how well the in pre-production fourth film, due out in Summer 2017, will perform.
Miracles from Heaven was the best reviewed new movie this weekend (with 54% at Rotten Tomatoes, that isn't saying too much) and with a third place opening weekend of $15 million, cleared its modest $13 million production budget.
If you're a fan of The Big Bang Theory's Melissa Rauch you might bave been eagerly awaiting the movie she co-wrote and starred in, The Bronze. Apparently, however, you didn't go see it. Critically panned, the movie performed poorly even by small release standards.
It banked less than $500 per theater (which, given ticket prices, means on average fewer than 70 people saw it at each of its 1,100+ locations... all weekend). With less than $500,000 it opened somewhere in the twenties place on the chart. For comparison, Kapoor & Sons, a foreign language Indian romantic comedy starring a bunch of actors most Americans have probably never heard of banked almost $1 million in fewer than 150 venues this weekend, its first in domestic theaters.
For the full weekend top ten, check out the chart below:
1.
Zootopia

$38,042,000Total: $201,807,497LW: 1
THTRS: 3,959
2.
The Divergent Series: Allegiant *

$29,050,000Total: $29,050,000LW: N
THTRS: 3,740
3.
Miracles from Heaven *

$15,000,000Total: $18,557,053LW: N
THTRS: 3,047
4.
10 Cloverfield Lane

$12,500,000Total: $45,176,639LW: 2
THTRS: 3,427
5.

$8,000,000Total: $340,941,383LW: 3
THTRS: 2,924
6.
London Has Fallen

$6,894,000Total: $50,089,820LW: 4
THTRS: 3,011
7.
Whiskey Tango Foxtrot

$2,805,000Total: $19,275,840LW: 5
THTRS: 2,079
Swipe to scroll horizontally
8.
The Perfect Match
$1,900,000
Total: $7,306,179
LW: 6
THTRS: 925
9.
The Brothers Grimsby

$1,400,000Total: $5,912,670LW: 8
THTRS: 2,235
10.

$1,225,000Total: $181,161,538LW: 11
THTRS: 935
Your Daily Blend of Entertainment News