Wes Anderson Might Go In A Completely Different Direction For His Next Movie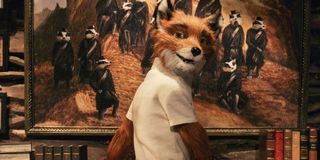 Wes Anderson is riding high. His latest, THe Grand Budapest Hotel, not only won massive critical acclaim, but also landed the title of the highest domestic indie film of 2014. So what will the man behind Rushmore, The Royal Tenenbaums and Moonrise Kingdom do next? It's looking like a return to animation, but with an unexpected inspiration.
The Playlist reveals that Wes Anderson is in the works at developing a stop-motion animated effort, which would be his second following The Fantastic Mr. Fox. While Anderson isn't yet unveiling a potential title for the picture, he has confessed that its structure will be inspired by Italian neorealist and filmmaker Vittorio De Sica. More specifically, this unnamed animated film will mimic the structure of De Sica's 1954 dramedy The Gold of Naples.
For those unfamiliar with The Gold of Naples, it is a film that pays tribute to its titular Italian city by presenting six vignettes of different characters who live within its walls, including a professor, a prostitute, a pizza seller, and a clown who falls in with a gangster. At a Q&A at the Lisbon and Estoril Film Festival, Wes Anderson suggested he'd similarly present a series of stop-motion vignettes, each tying into a common theme. What that central theme is, however, remains a mystery for now. Still, this concept seems a natural progression for Anderson, whose films often contain chapters, a plethora of characters, and the occasional companion-piece short film.
Revisit The Grand Budapest's companion short Castello Cavalcanti below:
The Playlist goes on to posit that Anderson's unnamed stop motion picture could well be the same project he teased while doing press for Grand Budapest Hotel last spring. At the time, he told the site that he was working with Roman Coppola, who collaborated on both Moonrise Kingdom and The Darjeeling Limited with the director. And he offered, "I'm trying to think of a good tease. I think the thing is well, it's a thing where maybe there's 'many things happening at once.' That could be my tease."
Check out a clip from The Gold of Naples on page 2. Then imagine it in Wes Anderson's signature pastels, and possibly with stop motion animals.
Staff writer at CinemaBlend.
Your Daily Blend of Entertainment News
Thank you for signing up to CinemaBlend. You will receive a verification email shortly.
There was a problem. Please refresh the page and try again.