Wesley Snipes Wants To Make Blade 4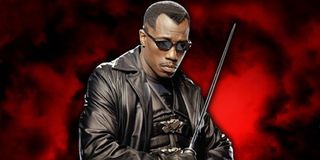 Wesley Snipes' movie career was briefly derailed when he was sent to prison in 2010 over tax evasion. But he's out and raring to rev up his action hero status once more, first with The Expendables 3, then possibly with Blade 4.
Speaking with MTV, Snipes was quick to dip into his Blade voice upon request, and when asked if he'd consider reprising the role of the dhampir dead-set on slaying vampires, Snipes was clearly enthusiastic about the idea. He said:
The Blade trilogy was released between 1998 and 2004. The first film cost a mere $40 million and went on to make $131 million worldwide despite mixed reviews from critics. Blade II opened in 2002, boasting future geek god Guillermo del Toro as its director. The $50 mil sequel brought in $155 million worldwide and received better reviews than the first. Two years later, Blade: Trinity hit. Jessica Biel and Ryan Reynolds co-starred with Wesley Snipes in the $65 million movie that made less than its predecessors, pulling in just $128 mil worldwide. Worse yet, this third installment was reviled by critics. Blade: Trinity's failure delivered a major blow to the directorial career of the film's helmsman, David S. Goyer.
Of course Goyer, who got the gig in part because he scripted all three films, has since had a major upswing in his screenwriting career for his contributions to DC's movie universe. He wrote on Batman Begins, then Man of Steel and Batman v Superman: Dawn of Justice. Despite some seriously boneheaded comments, Goyer holds the future of DC's movies in his hand. So could he get a Blade sequel going? It's possible.
Yes, Blade is a Marvel property. But the Blade movies were made by New Line, a subsidiary of Warner Bros. WB is a studio with whom Goyer has a solid working relationship as they are making and distributing the hotly anticipated Batman v Superman: Dawn of Justice. Back in 2013, WB gave Goyer free reign to start digging through DC properties for potential movie properties. But with Wesley Snipes out of jail and eager to get back in the superhero game, could Goyer convince Warner Bros. to bring back Blade? Only time will tell.
This poll is no longer available.
To see the video clip where Wesley Snipes talks about Blade 4 and the dearth of black superheroes in movies, click to the next page.
Get More: Movie Trailers (opens in new tab), Celebrity News (opens in new tab)
Staff writer at CinemaBlend.
Your Daily Blend of Entertainment News
Thank you for signing up to CinemaBlend. You will receive a verification email shortly.
There was a problem. Please refresh the page and try again.