What Christopher Nolan Told Zack Snyder Before He Made Batman V Superman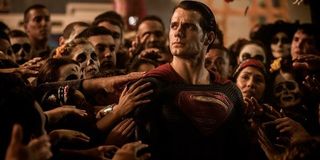 Batman v Superman: Dawn Of Justice is now under two months away. Doesn't it seem like just yesterday that the whole world was up in arms about the casting of Ben Affleck as Bruce Wayne? As he did with Warner Bros.' Man Of Steel, Zack Snyder is directing Batman v Superman: Dawn Of Justice. The filmmaker admitted he sought the advice of previous Batman director Christopher Nolan on how to handle the blockbuster, and the Englishman told him to not be so precious about the characters.
Zack Snyder told Empire, via Coming Soon, that, after revealing that he was going to pit Superman against Batman, Christopher Nolan (Batman Begins, The Dark Knight, The Dark Knight Rises) "found it a little bit hard" to consider. But he ultimately told Snyder:
This is something that Christopher Nolan knows very well. That's because the Memento and Inception director was actually the third director to oversee Batman on film. Tim Burton directed the 1989 original, its 1992 follow-up Batman Returns, while Joel Schumacher oversaw 1995's Batman Forever and 1997's roundly lambasted Batman & Robin, which is deemed one of the worst superhero films ever made.
Because of the critical mauling that Batman & Robin received, Christopher Nolan had a difficult task to try and restore the character's reputation, something that he did with aplomb with his Dark Knight trilogy. Nolan's films not only cemented Batman's status as arguably the most successful comic book character to have ever been brought to celluloid, but it helped to redefine the entire genre too.
But, as Christopher Nolan's words to Zack Snyder explained, the writer and director couldn't make Batman films for the rest of his career. And now, with Zack Snyder having rebooted Superman with Man Of Steel, he has been tasked with doing the same to Batman.
Not everyone is convinced that Zack Snyder is the right man to oversee the latest Batman film, which not only puts Bruce Wayne and his alter-ego up against Clark Kent and Superman, but also includes Jesse Eisenberg as Lex Luthor, Amy Adams as Lois Lane, and Gal Gadot as Wonder Woman.
We don't have long to wait to find out if Zack Snyder will do the merging of these iconic characters proud with Batman v Superman: Dawn Of Justice. But if he doesn't, the 300 and Watchmen director will get a third and fourth chance to do just that when Justice League Part 1 and Justice League Part 2 are released in 2017 and 2019, respectively.
Your Daily Blend of Entertainment News