What Daniel Radcliffe May Never Wear Again Thanks To Harry Potter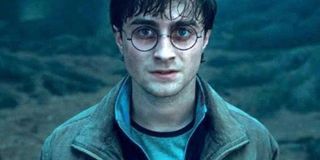 When a certain costume piece succinctly defines an actor's most iconic role, they might well shy away from it as they try to be seen for a wider range. Michael J. Fox might avoid red puffer vests, for example. Or Harrison Ford may never again wear an Indiana Jones-styled hat. But for Daniel Radcliffe, that means glasses. The Harry Potter star has instituted a bit of a ban on the prop that ties him too closely to his most iconic role.
While promoting his latest film Horns, he told MTV News he's avoiding glasses too similar to Harry's signature pair as much as possible. His own vision is 20/20, but if that changed, he'd desperately try to stay away from resembling that Boy Who Lived, who defined most of Radcliffe's career so far. "It's gonna be contacts," he told MTV's Josh Horowitz, "Or like triangular glasses or something just to really put some distance."
This isn't actually the first time Radcliffe's been asked about glasses, which at first might seem silly. But what is a common fashion accessory has for this performer been intrinsically linked to the biggest movie franchise he's likely to ever be a part of. Back when he promoting his first film post-Harry Potter, the horror film Woman in Black, he told Moviefone how he'd intentionally been avoiding wearing glasses on film. He recalled, "On My Boy Jack, they came to me with glasses and I was like, 'Whoa, not those ones.'"
This might seem a silly hang up. Like, does Radcliffe think he'll never not be associated with Harry Potter? Likely, he realizes that is inevitable. His reluctance to don glasses--especially if they are circles a la Potter--seems to come from a place of service to his new films. For audiences to submerge into that satisfying suspension of disbelief on movies like Kill Your Darlings, Horns or What If, it's crucial that Radcliffe do whatever he can to help them--ever so briefly--forget him as Harry Potter.
It's not like he's running from the legacy of the Harry Potter franchise. Far from it. The star has had quite a bit of fun playing with the persona. Remember the time he reprised the role for a Saturday Night Live sketch:
To see the video interview clip of Daniel Radcliffe talking all things Oculus Repairo, click to page 2:
Get More: Movie Trailers, Celebrity News
Your Daily Blend of Entertainment News
Staff writer at CinemaBlend.