This Is What The Deadpool Movie Would Have Looked Like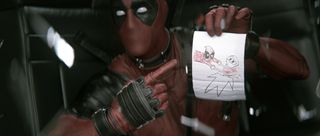 Above you'll see a small piece of what could have been. It's our first -- and maybe last-ever -- peek at what Ryan Reynolds' Deadpool was supposed to look like. UPDATE: And now it's also in High-def!
This clip recently surfaced (via Den of Geek and multiple other sites) as a brief test-footage glimpse at what the proposed movie (from first-time director Tim Miller) would have looked like. And the results are... pretty Deadpool-y!
If you can recall, Reynolds basically played a beta-version of Deadpool in X-Men Origins: Wolverine. As mercenary Wade Wilson, he shows up, cracks some jokes, vanishes for an hour, then returns with a mouth carved shut and new, bizarre abilities. Not only was the new Deadpool script not at all related to the previous film, but it openly mocked the character's strange treatment by Fox executives. Written by Rhett Reese and Paul Wernick of Zombieland fame, the project was penned to be a "true" Deadpool movie, involving R-rated violence, foul language and a fourth-wall-breaking sense of humor that saw Deadpool, as he does in the comics, address the audience repeatedly.
While apparently that script never gained traction with the audience, this actually appears to be the first scene in animatics form. It's not as if Fox saw the footage and immediately decided not to make the film, as there were other factors in play. Specifically Ryan Reynolds' fickle star power, and his extremely bad luck with comic book adaptations: Reynolds' comic-movie roll call involves X-Men Origins: Wolverine, Blade: Trinity, R.I.P.D. and Green Lantern. Clearly the guy's snakebitten.
Trusting the script also meant trusting a hefty-budgeted R-rated film in the hands of a first timer. Miller, an effects veteran, came on after the fans' screams for Robert Rodriguez were loudest (he reportedly turned the project down). There's also the matter of Fox's grand plan regarding the X-Men universe, as they were clearly dedicated to the First Class timeline, even though Deadpool was decidedly contemporary. While Deadpool was never an X-Man, he frequently crossed paths with the team, and the script they had in place involved making a mockery of the X-Men's recruitment of him. It also featured a decidedly large supporting role for Colossus, which is awesome, because X-Men: Days Of Future Past suggests we may never see Daniel Cudmore's metallic Piotor ever again.
As for the footage? It's a lot like Deadpool himself: relentlessly sorta-funny, kind of obnoxious, and a complete breath of fresh air from the usual costumed shenanigans. The idea of a masked sociopath going around making Gwen Stefani and Cobra jokes is funny not because it's clever, but because it's completely dumb, and this version of Deadpool would have turned dumb into poetry, while also mocking the self-seriousness of X-Men and the superhero genre as a whole. Maybe the character will return one day: Fox could easily place him in the X-Force movie. But the clip above is all you'll see of this particular version of Deadpool.
Your Daily Blend of Entertainment News
Thank you for signing up to CinemaBlend. You will receive a verification email shortly.
There was a problem. Please refresh the page and try again.