What Happened To Christian Bale's Ass On The Set Of The Machinist Is Horrifying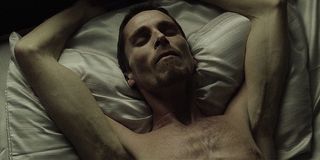 Christian Bale's dedication to his craft is legendary. Not only did he bulk up to play Bruce Wayne in Christopher Nolan's Dark Knight trilogy, but he also fattened up for his role in American Hustle and famously lost a borderline unhealthy amount of weight in order to play Trevor Reznik in 2004's The Machinist. However it turns out that we only knew the half of the turmoil that Bale went through in order to play the aforementioned character, and his co-star, Michael Ironside, has now revealed that his ass took most of the punishment.
Ironside made the revelation during a Reddit question-and-answer session, and his story made for pretty grim reading. After being asked what it was like to work with Bale, Ironside decided to recall a story from the production of The Machinist that involved him taking a long, hard look at the Welsh actor's rear-end. I'll let Ironside take up the reins at this point …
It turns out that Christian Bale was actually looking to gain weight at this point because The Machinist's writer, Scott Kosar, had put the estimated size of the character in the script and he wanted to see if he could match it. For the scene he was about to film -- which ironically, when you consider the grotesque situation, was between him and his love interest -- he needed to have gained 10 pounds. Ironside then revealed that Bale continued to put more and more weight on after that point and when he next ran into the actor, at Sundance six months later, he had amassed 60 pounds of muscle in order to play Batman.
I don't know whether to be impressed or repulsed. Probably a bit of both.
Your Daily Blend of Entertainment News
Thank you for signing up to CinemaBlend. You will receive a verification email shortly.
There was a problem. Please refresh the page and try again.