What James Marsden Thinks About The New Cyclops Casting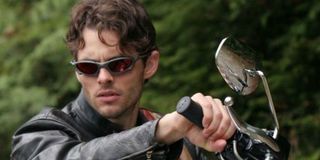 Just a couple days ago the announcement was made. Tye Sheridan will be playing the young Cyclops in the upcoming X-Men: Apocalypse. So what does his Cyclops predecessor, James Marsden, have to say about the casting decision? Well, turns out Marsden is a huge fan of Sheridan, and along with sharing strong compliments and congratulations, Marsden affirms that the young actor is the perfect fit.
The original Scott Summers, James Marsden was in attendance at the Sundance Film Festival, when HitFlix asked him for his thoughts on the new casting. Elder Cyclops who has portrayed the character in numerous X-Men films had high praise for the young man and his previous performances:
Sheridan's career is seriously impressive considering his youth. At age 18, the actor has already given some incredibly powerful performances in critically-acclaimed films such as Mud and The Tree of Life. And Marsden's genuine excitement comes after his hopeful successor was not chosen, too. A few months back, Marsden shared whom he would like to see play the role, and while he admitted he did not know much about what was going on behind the scenes, he did offer the name Luke Bracey, who may only be 25, but looks a whole lot older than the current casting.
Marsden's suggestion was more out of adoration for Bracey's performance in their collaborated film, The Best of Me where Bracey portrays a younger version of Marsden's character. But still, it seems like Marsden really has no idea how young the younger version of Cyclops was going to be in the newest X-Men flick.
Casting the young cyclops apparently hasn't been easy, either, with many up-and-coming actors testing for the role. But, Tye Sheridan came out on top, and his young counterparts include Alexandra Shipp playing young Storm, and Game of Thrones star Sophie Turner as young Jean Grey. The actors will join a powerhouse cast already, that includes Jennifer Lawrence as Mystique, Michael Fassbender as Magneto, James McAvoy as Professor X, Nicholas Hoult as Beast, and Oscar Isaac as Apocalypse. Production is scheduled to begin in the next few months, and X-Men: Apocalypse is due to hit theaters on May 27, 2016.
Your Daily Blend of Entertainment News
Thank you for signing up to CinemaBlend. You will receive a verification email shortly.
There was a problem. Please refresh the page and try again.