X-Men: Casting Cyclops Apparently Hasn't Been As Easy As We Thought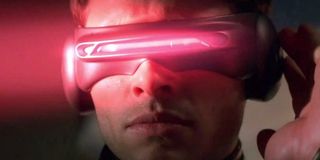 Now that X-Men: Apocalypse has its title villain in Star Wars: The Force Awakens star Oscar Isaac, casting is heating up. Among the new parts Bryan Singer's crew is looking to feature, a young Cyclops is one of the more hotly contested. A number of up-and-coming actors have been reportedly testing for the role, including Taron Egerton, but apparently it's not an easily traveled road. The Kingsman lead has revealed that he is not in the running to play the mutant.
Perhaps he never even was to begin with! The 25-year-old actor recently spoke to MTV UK and confirmed that he is "100%" not playing Cyclops in X-Men: Apocalypse.
Egerton was reported to have tested for the role not too long ago, but he had recently cast some doubt. During a special screening and Q&A for Kingsman: The Secret Service, he said that he couldn't comment on this particular report, which seemed to suggest at the time that he could've been deep into the casting process. So, that's one name we can now officially scratch off the list, though he did also say that he would love to succeed Andrew Garfield and Tobey Maguire as Spider-Man some day.
Other names reportedly up for the role of young Cyclops are If I Stay star Jamie Blackley, 23, and Tye Sheridan, 18, from Mud. While it's not up to James Marsden, who's appeared as older Cyclops in four X-Men movies, he had said that he would love to see his Best of Me co-star Luke Bracey (who played a younger version of his character in the film) in the role. Aussie actor Tim Pocock has already played a young Cyclops in X-Men Origins: Wolverine, though at 29, he might be too old to return to the role.
While we wait to see who emerges as the new front-runner, Apocalypse is also looking for actresses to play younger versions of Jean Grey and Storm. Sophie Turner, who plays Sansa Stark in HBO's Game of Thrones, and Saoirse Ronan of the Oscar-nominated Grand Budapest Hotel are said to be in contention for Scott Summer's telekinetic/telepathic love interest. As for Mother Nature herself, Alexandra Shipp from Lifetime's Aaliyah movie and newcomer Zendaya Coleman are reportedly testing for the part.
X-Men: Apocalypse is set for release on May 27, 2016. So far we know that the film will focus on Jennifer Lawrence's Mystique, Nicholas Hoult's Beast, James McAvoy's Professor X and Michael Fassbender's Magneto. Channing Tatum will also make an appearance as our new Gambit, but we're anxious to see which other mutants will join the fight to cancel the apocalypse.
Your Daily Blend of Entertainment News
Thank you for signing up to CinemaBlend. You will receive a verification email shortly.
There was a problem. Please refresh the page and try again.