What Kylo Ren And Luke Skywalker Have In Common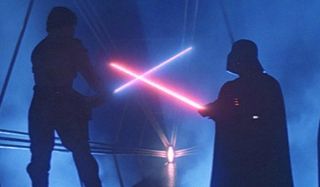 After glimpsing his backside as he brandished a crossguard lightsaber in a wintry wood, Star Wars: The Force Awakens' Kylo Ren has finally face front. Not only are we seeing a lot more of him in the latest issue of Entertainment Weekly, but the magazine unleashed a slew of background info on the character and how he relates to Luke Skywalker.
Just like Luke Skywalker, Kylo Ren isn't fully formed when we meet him. Sure, he's reportedly a Sith for The First Order, but he's not as deep into his story as when we encounter, say, Darth Vader. The Force Awakens director J.J. Abrams Tells EW:
There are comparisons. Mark Hamill's character came from humble beginnings. He was raised as a farm boy on the planet Tatooine, and yet he grew to become a hero for the galaxy far, far away in rising up against the Empire. As EW notes, based on their chat with director J.J. Abrams, Ren could very well be the inverse of Skywalker. The Sith lord, too, comes from simple means. His infamous saber, for instance, was crafted by himself. According to Abrams, it's "as dangerous and as fierce and as ragged as the character."
In addition to his weapon of choice, Ren has a unique getup. We learned from the actors during San Diego Comic-Con that some of these new characters — including Finn, Rey and Poe Dameron — grew up during the events of the original trilogy, and those stories likely affected where they are now and who they became. In terms of Kylo Ren, Abrams said his mask is meant to be a nod to Darth Vader and that the character is well aware of what came before him, which is "very much a part of the story of the film."
The Force Awakens will get into more detail about where Kylo Ren's mask comes from, but Abrams was able to reveal the origins of his name. As it turns out, Kylo Ren is not the character's birth name, but one he acquired when he became a member of a mysterious group called The Knights of Ren. EW notes that "Ren" and "Darth" act in similar ways as titles rather than actual names.
As for the rest, we'll have to wait until Star Wars: The Force Awakens hits theaters on December 18 to learn the rest of this character's backstory. Adam Driver is joined by John Boyega as Stormtrooper-on-the-run Finn, Daisy Ridley as a scavenger named Rey, Oscar Isaac as X-Wing pilot Poe Dameron, Gwendoline Christie as The First Order's Captain Phasma, Domhnall Gleeson as General Hux, Andy Serkis as Supreme Leader Snoke, Lupita Nyong'o as space pirate Maz Kanata, and Max von Sydow in an unknown role. Then, of course, there's the return of Mark Hamill, Carrie Fisher, and Harrison Ford. Are you excited yet?
Your Daily Blend of Entertainment News
Thank you for signing up to CinemaBlend. You will receive a verification email shortly.
There was a problem. Please refresh the page and try again.