Star Wars: Episode VII Video Offers First Look At Princess Leia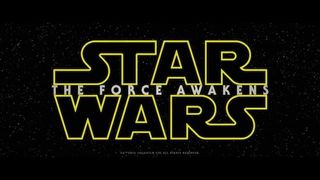 For the most part, Lucasfilm kept Star Wars: The Force Awakens and the anthology films out of the Comic-Con spotlight. But they still brought something special for the fans. After camping out all night in the hopes of snagging a coveted spot in Hall H for the next day, attendees were treated to never-before-seen sneak peeks of the highly anticipated film. Watch the Comic-Con video below and get your first look at Princess Leia (Carrie Fisher) at around the 2:58 mark...
Seeing Leia, and Princess Leia, even more than seeing Carrie Fisher and knowing that she was reprising her role, it's a feeling hard to put into words. It's up there with seeing Han Solo and Chewbacca at the tail end of the last The Force Awakens trailer. I might lose my damn mind when we finally get a good look at Luke Skywalker.
It's hard to tell who she's talking to the first moment we see her, but with her militaristic outfit, arms crossed, and that don't-bullshit-me look on her face, she exudes just as much power and authority as she ever did, maybe more. A few seconds later, we get another more candid shot of Fisher, still in the same get up, being very motherly to director J.J. Abrams. It almost looks like she's going to pinch his cheeks.
The main focus of this video is going to be a huge reassurance to anyone who has worried that the new Star Wars movies are going to devolve into greenscreen nightmares like the prequels. While Abrams and company have made a point since day one of talking about how they planned to use as many practical special effects as possible, this video really drives home exactly how much they actually employed.
There is obviously going to be a fair amount of digital effects, you can't make a big, sweeping space opera like this without them, and you see some of the motion capture stuff they did with Lupita Nyong'o. But there are an incredible number of practical robots, physically rendered creatures, and intricate costumes. I don't know what Simon Pegg is supposed to be, but I can't wait to find out. You also get a glimpse a bunch of massive explosions, stormtroopers rigged up and flying everywhere, and it's impossible not to get giddy when you see Rey (Daisy Ridley), spinning around in the gun turret of the Millennium Falcon.
For those of us worried about this side of The Force Awakens, this video is a huge relief, and everyone in Hall H for the presentation felt the same tangible energy.
The air was electric before the festivities kicked off. Fans began chanting "Let's go Star Wars!," stamping their feet and doing the wave. After all, they waited hours in line to get in and the panel started a bit late. But it was well worth it. In attendance for the event were The Force Awakens stars John Boyega and Daisy Ridley, director J.J. Abrams, producer Kathleen Kennedy and writer Lawrence Kasdan. While there was no new footage, per se, the behind-the-scenes look at how J.J. Abrams and co. worked their magic was all anyone could talk about.
Star Wars: The Force Awakens centers on a new trio of characters. Finn (John Boyega) reportedly plays a defected Stormtrooper on the run from the Empire's forces, which are led by the imposing Captain Phasma (Gwendoline Christie). He makes his way to the desert planet Jakku, where he encounters a scavenger named Rey (Daisy Ridley). Meanwhile, Poe Dameron (Oscar Isaac), one of the most skilled X-Wing pilots in the galaxy, is sent on a mission by "a certain princess" that intertwines his destiny with that of Finn and Rey. Mark Hamill (Luke Skywalker), Carrie Fisher (Princess Leia) and Harrison Ford (Han Solo) reprise their roles for the film alongside a slew of new actors, including Adam Driver (playing a Sith named Kylo Ren), Andy Serkis (playing Supreme Leader Snoke), Lupita Nyong'o (playing the space pirate Maz Kanata), Dohmnall Gleeson, and Max von Sydow.
Star Wars: The Force Awakens opens in theaters this December 18.
Your Daily Blend of Entertainment News