Star Wars Villain Kylo Ren Looks Badass On Latest EW Cover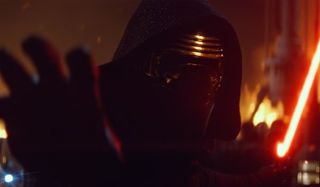 The force has awakened this morning with a brand new image, courtesy of the latest Entertainment Weekly cover. Thanks to the Lucasfilm Comic-Con panel, we learned more info about the villains of Star Wars: The Force Awakens, and the new Sith warrior, Kylo Ren, now takes center stage. Check him out!
Adam Driver of Girls fame portrays the bastard sword of lightsabers on this EW cover, and there's a whole bunch more goodies inside the issue. According to reporter Anthony Breznican, a special Q&A with director J.J. Abrams is at the forefront of the magazine's fall movie preview. Among the questions asked — including ones pertaining to BB-8, Harrison Ford's Han Solo return, and Daisy Ridley's character — is an inquiry into Kylo Ren's background. When the issue hits newsstands this Friday, we'll find out more about his potential relationship to Darth Vader and what his birth name is.
In the meantime, we have this badass image, as well as 12 new stills from the movie to drool over. In the gallery, which can be checked out in full here, we see John Boyega's Finn making a dangerous crash landing on the desert planet Jakku and fleeing from the remains of a wrecked TIE Fighter. Along the way he meets a scavenger named Rey (Daisy Ridley), and another image shows the two of them on the run from First Order (remember, that's the new Empire) Stormtroopers. How does the little BB-8 droid make his debut? As it turns out, Rey rescues him from the net of a fellow scavenger.
Elsewhere in the gallery, we see new looks at Domhnall Gleeson's General Hux, described as "a cruel leader of The First Order who craves to show the galaxy his might," the return of R2-D2 and C-3PO, the latter of which has a red arm; Gwendoline Christie's Captain Phasma; and Oscar Isaac's Poe Dameron with a black X-Wing. We don't know all that much about the plot, but these images and details confirm a few tid bits we've picked up along the way. Finn is a Stormtrooper who goes on the run, while we previously knew that Poe Dameron is sent on a mission by "a certain princess" that entwines his destiny with those of Finn and Rey. Meanwhile, The First Order has their Starkiller base of operations, which sounds just as fearsome as the Death Star.
Star Wars: The Force Awakens also features the return of Mark Hamill's Luke Skywalker, Carrie Fisher's Princess Leia, and Peter Mayhew's Chewbacca. Joining the cast of newbies are Andy Serkis as Supreme Leader Snoke, Lupita Nyong'o as space pirate Maz Kanata, Max von Sydow, and Simon Pegg. The film will hit theaters later this year on December 18.
Your Daily Blend of Entertainment News
Thank you for signing up to CinemaBlend. You will receive a verification email shortly.
There was a problem. Please refresh the page and try again.